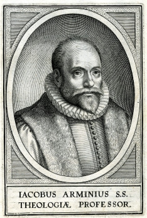 From DBSJ 21 (2016). Republished with permission. By John A. Aloisi. Read Part 1.
Adam's First Sin
Any discussion of original sin must begin with Adam's first sin or what is often called "the Fall." If, as the apostle Paul declared, sin was introduced into the human race through the sin of one man (Rom 5:12), then an examination of this first sin is preliminary to a consideration of original sin.
The Nature of Adam's Sin
In the seventh of his Public Disputations, Arminius discussed the nature of man's first sin.12 He believed that this sin is most accurately described by the words disobedience and offense. It is designated disobedience because
the law against which the sin was committed, was symbolical, having been given to testify that man was under a law to God, and to prove his obedience, and since the subsequent performance of it was to be a confession of devoted submission and due obedience; the transgression of it cannot, in fact, be denoted by a more commodious name than that of "disobedience," which contains within itself the denial of subjection and the renunciation of obedience.13
Adam's first sin may also be viewed as an offense or a fall. Arminius explained why the first sin takes on the nature of an offense when he wrote, "Because as man, having been previously [constitutus] placed in a state of integrity, walked [inoffenso] with unstumbling feet in the way of God's commandments; by this foul deed he impinged or offended against the law itself, and fell from his state of innocence."14 Man disobeyed the law of God, and in doing so he offended the law that had been designed to demonstrate his submission to God.
This sin can also be described as a transgression of God's law. In eating of the fruit from the tree of the knowledge of good and evil, man transgressed the boundary God had laid down for him.15 Arminius frequently referred to sin, in general, as a transgression of God's law.16
Arminius explained that Adam's first sin was particularly heinous for four reasons.17 First, he pointed out that the seriousness of Adam's sin is seen in the fact that it was a transgression of a universal law that bore witness to mankind's responsibility toward God. The command looked beyond Adam and was typical of the entire race's obligation to submit to its Creator. Second, the fact that Adam committed this sin while in a state of innocence and while endowed with original holiness adds to the severity of the crime. The first sin was more grievous than subsequent sin because it occurred before mankind lost original holiness. Third, Adam sinned when numerous facilities existed to aid him in avoiding sin. Adam had many advantages that he could have utilized to evade the act of sin, but he did not make use of these. And fourth, the wickedness of Adam's sin is compounded by the fact that he committed the sin "in a place that was sanctified as a type of the celestial Paradise."18
The Cause of Adam's Sin
Arminius was very careful to avoid making God the cause of sin in any way.19 He indicated that the efficient cause of Adam's sin was twofold. Man himself was the immediate cause of his own sin. Arminius stated that Adam "of his own free will and without any necessity either internal or external … transgressed the law which had been proposed to him."20 Adam's free will was the immediate and causative force behind his sin. Elsewhere, Arminius wrote, "The efficient cause of that transgression was man, determining his will to that forbidden object, and applying his power or capability to it."21 Although man was the immediate cause of his own sin, the mediate or remote cause of Adam's sin was Satan, who enticed man to transgress the law of God.22 However, Satan was not the effective cause of Adam's sin. For he only counseled or persuaded man to sin; he did not force man to sin.23
God was neither an efficient nor a deficient cause of Adam's sin. Arminius explained, "[God] neither perpetrated this crime through man, nor employed against man any action, either internal or external, by which he might incite him to sin … . He neither denied nor withdrew any thing that was necessary for avoiding this sin and fulfilling the law."24
Although God was in no way the cause of Adam's sin, he did make it possible for man, by his free will, to commit this sin. God, in a real sense, permitted Adam to sin, though he did not cause Adam to sin. Arminius defined this divine permission as "the suspension of some efficiency, which is possible to God both according to right and to capability, and which, if exerted, would prevent sin in its actual commission."25 God gave Adam many reasons not to sin, but God did not choose to efficaciously hinder Adam from committing the act of sin.
The Effects of Adam's Sin
The immediate effect of Adam's sin was that God was justly offended. Arminius argued that since sin is primarily a transgression of a law, sin's first effect is to offend the lawgiver.26 The second effect of Adam's sin was to cause God displeasure or anger.27 This anger resulted in a twofold punishment:
(1.) [Reatus] A liability to two deaths….(2.) [Privatio] The withdrawingg of that primitive righteousness and holiness, which, because they are effects of the Holy Spirit dwelling in man, ought not to have remained in him after he had fallen from the favor of God, and had incurred the Divine displeasure.28
This punishment, while severe, makes no mention of spiritual inability. Arminius speaks of the withdrawing of original righteousness, but he does not discuss any resulting depravity, either for Adam or his descendants. This emphasis has rightly led Bangs to conclude that "Arminius sees the result of Adam's sin more in privation than in depravation."29
In a document titled, Nine Questions, Arminius identified original sin as part of the punishment for Adam's sin.30 He wrote, "It is perversely said, that 'original sin renders a man obnoxious to death,' since that sin is the punishment of Adam's actual sin."31
Arminius noted that the punishment due to Adam's sin extends to all his descendants. This is completely just, he argued, because all mankind was in Adam. He explained,
The whole of this sin, however, is not peculiar to our first parents, but is common to the entire race and to all their posterity, who, at the time this sin was committed, were in their loins, and who have since descended from them by the natural mode of propagation…in Adam "all have sinned." (Rom. v, 12.) Wherefore, whatever punishment was brought down upon our first parents, has likewise pervaded and yet pursues all their posterity.32
To Arminius, Adam sinned by his own free will. Yet, because all mankind has descended from Adam, all humans have inherited the punishment that Adam's sin deserved. This punishment involves a liability to both physical and eternal death. It also includes the deprivation of the original holiness that Adam possessed before the Fall.
(Next: Original sin itself: its transmission, nature, the definitions of Augustin and Aquinas.)
Notes
12 The Public Disputations were first delivered as lectures on various topics which Arminius and his colleague Gomarus debated during Arminius's professorship at the University of Leiden (1603–1609). Arminius's clearest explanations of Adam's first sin are to be found in his Public Disputations VII and XXXI and his Private Disputations XXX (see Stranglin and McCall, Jacob Arminius, 142).
13 James Arminius, The Writings of James Arminius, 3 vols., trans. James Nichols and W. R. Bagnall (repr., Grand Rapids: Baker, 1977), 1:480 [hereafter Writings].
14 Ibid.
15 Ibid. Arminius stated, "The form of this sin is aνοµιa, 'the transgression of the law,' (1 John iii, 4,) which belongs to this act in reference to its having been forbidden by the law" (Writings, 1:484).
16 Ibid., 3:398.
17 Ibid., 1:484–85.
18 Ibid., 1:485.
19 Despite Arminius's efforts to avoid making God the author of sin, apparently he was accused of just that, much to his chagrin (ibid., 1:347–54; see also Stanglin and McCall, Jacob Arminius, 142–45).
20 Writings, 1:481.
21 Ibid., 2:74.
22 Ibid.
23 Ibid., 2:75.
24 Ibid., 1:482.
25 Ibid., 1:483.
26 Ibid., 1:485.
27 Adam's violation of God's command involved three causes of just anger:
The [derogation] disparagement of his power or right.
A denial of that towards which God [afficiebatur] had an inclination.
A contempt of the divine will intimated by the command (ibid., 2:77).
28 Ibid., 1:485. Elsewhere, Arminius identified these two deaths as temporal death (i.e., the separation of the soul from the body) and eternal death (i.e., the separation of the entire man from God) (ibid., 2:78).
29 Bangs, Arminius, 339.
30 Due to the controversy that was raging between Gomarus and Arminius at the University of Leiden, the Synod of South Holland was asked to address the problem. In November 1605, they responded by asking the curators of the university to require their theological professors to answer nine questions. The curators refused, but Arminius managed to acquire a copy of the questions. He decided to answer the questions and proceeded to ask nine counter questions. The original questions, Arminius's replies, and his counter questions comprise the Nine Questions (ibid., 270–71).
31 Writings, 1:382.
32 Ibid., 1:486.
2167 reads