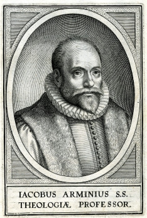 By John A. Aloisi. Reproduced from DBSJ 21 (2016) with permission. This installment continues Consideration of Original Sin and the Justice of God and concludes. Read the series.
The Providence of God
The providence of God] may be defined the solicitous, everywhere powerful, and continued [intuitus] inspection and oversight of God, according to which he exercises a general care over the whole world, and over each of the creatures and their actions and passions, in a manner that is befitting himself, and suitable for his creatures, for their benefit.106
So Arminius defined the providence of God. Perhaps especially important is the fact that he spoke about God's providence as "everywhere powerful" but did not indicate that God's providence is actually all-powerful. He also referred to God's providence being exercised in a manner that is "suitable for his creatures." This statement seems to point out the direction that Arminius's understanding of providence will take. In this brief definition, Arminius's picture of God's providence seems to be shaped by the creation rather than the will of the Creator.
1653 reads