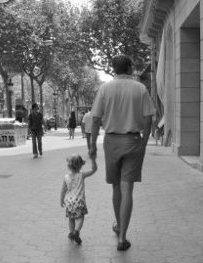 And, ye fathers, provoke not your children to wrath: but bring them up in the nurture and admonition of the Lord. (KJV, Ephesians 6:4)
November 24, 2014, is a day I will never forget. That is the date my oldest son was born and for all intents and purposes the day I became a father. I remember standing in the hallway of the little hospital and wearing that stupid looking paper gown. As they prepared my wife for the delivery, I paced the empty O.R. hallway. As I paced, I was praying and begging God.
I was of course concerned for my wife's safety and the healthy birth of my son, but even more than that, a single thought consumed me, "O God, please don't let me mess this up." I was entering fatherhood with great fear and trepidation. Why? Well, the answer is simple. The society we live in has spent decades telling us that dads are incompetent. If you think I am wrong about this, start paying attention to the dads on your favorite TV shows. To be blunt, Dad is often either a total moron or a hate filled cynic who neglects his children. What are we supposed to do in the face of such brainwashing?
For the Christian father, the Bible offers some general principles and a few direct commands. Ephesians 6:4 is one of those few commands that we are directly given as dads. The verse is a plea for us to invest in in the spiritual well-being of our children. Below are some investments we ought to be making.
Invest in Hope
What does it mean to invest in the hope of our children? Ephesians 6:4 clearly indicates that fathers have a tendency to provoke their children to anger. Paul's warning in that verse is the main drive and intent of the verse itself, but we must also consider the end result of such provocation.
In Colossians 3:21, Paul takes the same command a step further. It reads, "Fathers, provoke not your children to anger, lest they be discouraged." Fathers must have a deep-set awareness that they have the capacity to greatly discourage their children. Knowing this, we must then ask what the opposite of discouragement is, and the answer, as you have probably guessed already, is hope.
As a father you have the ability to either discourage or encourage your children, and this power is not to be taken lightly. This is not to say we do not discipline our children. Numerous Scriptures, especially in the book of Proverbs, speak to the importance and necessity of disciplining our children. Paul is not speaking of a temporary discouragement, but rather a permanent one. We are speaking of a deep disheartening.
Children lose hope when nothing they do seems to please their parents, when good behavior is not recognized, or when they are ignored despite pleas for attention. Provocation and discouragement is the opposite of the way of the gospel. It is also the opposite of the way that our Heavenly Father cares for us. We must ask ourselves if the message we are sending our children is a hopeless one or one founded on God's example of grace.
Invest in Integrity
Ephesians 6:4 goes on to tell us that we should be "bringing them up." Please notice the difference in language here. The provoking causes the child to be brought down, but the godly father is to bring him up. Instead of treading our children under foot, the aim of fatherhood should be to train and to encourage with the hope that our children's lives may become of great spiritual value.
One of the ways that we bring our children up is by being fathers of integrity. Proverbs 20:7 says, "The just man walketh in his integrity: his children are blessed after him." If we are men of integrity, our children will be blessed as a result of that.
Proverbs 10:9 gives us a better idea of what integrity is when it says, "He that walketh uprightly walketh surely: but he that perverteth his ways shall be known." Integrity is not just about telling the truth verbally (although that is certainly part of it). Integrity is about living an honest life. Those who have integrity don't have to fear being found out.
Fathers should practice openness with their children. Often we are so focused on being Super Dad that we forget that our children need to see that we are human. One of the most damaging things we can do as fathers is to teach our children complete self-reliance. The danger is that the damage of complete self-reliance is not immediately noticeable. It takes root in our children's heart and tells them that they must be perfect and that they cannot ask for help. We need to let our children see our hearts. Let them see your struggles sometimes. Let them see real integrity and not just a manufactured façade. Instead of self-reliance, we should be teaching our children a reliance on God. Your son and daughter will never come to you with a problem if they think you don't have any and they don't see you going to your Heavenly Father with your own problems.
Invest in Nurturing
Ephesians 6:4 tells us to bring up our children "in the nurture of the Lord." What does that mean? Well, thankfully the Scriptures give us a wonderful example of the "nurturing of the Lord." Luke 18:15-17 tells the familiar story of parents bringing their children to Jesus in the hope that he would simply touch them. The disciples thought he was much too busy and much too important to be dealing with children. Yet, Jesus sets them straight and conveys to them His nurturing heart when He says, "suffer the little children to come unto me."
The question is not if God has a nurturing heart, but whether we as parents even come close to nurturing our own children in this same way. Do you suffer your children to come unto you? Do you invest in your role as a father with loving tender care toward your children or are you much too busy and important for that?
In 1968, Ray Stevens released a song called "Mr. Businessman." The song dealt with the moral breakdown of business culture and focused on a man who is consumed with his work, consumed with himself, and who is forgetting everything important. One verse of the song describes his neglect of his children. "Did you see your children growing up today? And did you hear the music of their laughter as they set about to play?" Equally piercing is the chorus which calls him to change his ways. "You better take care of business Mr. Businessman. What's your plan? Get down to business Mr. Businessman if you can, before it's too late and you throw your life away."
Is your role as a father just another thing in your life or is it a priority? If not, it is time for you to take care of business. Invest in the nurturing of your children. For far too long fathers have been crippled by the stereotype that showing affection to our children means that we are weak. Your children need your hugs, smiles, and kind words just as much as they need their mother's. History has told us that nurturing is the job of only the woman, but a father is not only to nurture his children, but to make their nurturing a priority. We need simply to look to the example of Christ to see this.
Invest in Godly Instruction
The final instructions of Ephesians 6:4 is to bring up our children in the "admonition of the Lord." The meaning of "admonition" here is rebuke or reproof, but ultimately speaks to overall godly instruction of children. We must ask ourselves some important questions.
Where do my children learn about God?
Where do they learn right and wrong?
Where do they learn that God loves them so much that he sent his son to die for them?
If "from me" is not your primary answer to these questions, then you are neglecting your duties as the spiritual leader in your home. Church is a wonderful thing, but it is not enough. Don't excuse yourself from your duties as a godly father, by using the excuse that your children attend Sunday school or Church. The role of those settings is to reinforce what you are already teaching them in the home.
Imagine the power of the gospel when it is presented by a father. After all, the gospel story is one of a father sending His only son to die for the sins of man. Don't you think that has a lot more impact when you tell it to your son or daughter? Never forget that your primary responsibility as a father is to admonish your children in the things of the Lord.
It is no coincidence that the Devil has made it a priority to systematically tear down and denigrate the role of fathers in the home. Unfortunately most of us are neglecting our responsibilities in one way or another. We are not living up to the plan God has set forth for fatherhood. Never forget that God's desire for fathers is that they reflect the Heavenly Father to their children. We must take up the charge of fatherhood so that we may raise up hopeful children.
Hopeful in the love of the Lord
Hopeful in our own love and nurturing
Driven to hope by the example of our integrity
---
Joel is a U.S. Army Reserve chaplain and has served as Bereavent Coordinator at the VNA/Hospice of Eastern Maine since 2015. He earned his BA at Norwch Univ., and MDiv at Bob Jones University and Liberty University. He has served in a variety of chaplaincy roles since 2007 and as an assistant at Lighthouse Bible Church in Searsport, ME.
423 reads
1589 reads