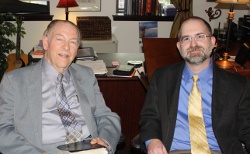 On Saturday, November 21, I attended what is something of a rarity these days—a prophecy conference. Dr. John Whitcomb spoke from the book of Daniel, focusing on the prophetic visions of Nebuchadnezzar and Daniel himself. I was there because I wanted to interview Dr. Whitcomb and the conference location was just a few hours from where I live. So the event itself wasn't the main draw. Like many these days, my attitude toward a prophecy conference tilted noticeably in the "been there, done that" direction.
But I'm delighted to have been there for the conference and to have the opportunity to commend Dr. Whitcomb's ministry. Even if you are firmly committed to a non-dispensational approach to Scripture or non-premillennial eschatology, I strongly recommend that you go out of your way to hear Dr. Whitcomb speak from the book of Daniel. If you do, you'll probably discover for yourself what I did.
1. A prophecy conference does not need to be a cold, intellectual excercise in analysis of chronological details. Dr. Whitcomb's love for—and walk with—the God behind the prophecies carries more weight than his analysis of the prophetic data. His talk is peppered with spontaneous prayers along the lines of, "And I say thank you, Lord, for Your great wisdom." At first, Dr. Whitcomb was so frequently moving in and out of prayer I had difficulty deciding when I should bow my head. After a while, I realized this man prays without ceasing and gave up.
2. A prophecy conference does not need to be a fever-pitched survey of recent news bites and how they all suggest Jesus is going to return "very soon!!" Dr. Whitcomb's work is expositional. Granted, many believe the dispensational assumptions that inform the exposition are deeply flawed—and yes, there are charts—but it's impossible to miss the fact that Dr. Whitcomb devotes nearly all of his presentation time to reading, comparing and explaining biblical texts. Anyone who listens with an open mind sees that the charts do not interpret the texts, but rather the texts build the charts.
3. Regardless of the details, the great themes of prophecy are potent stimuli for the believer's heart: the vanity of the kingdoms of this world, the infinite and often inscrutible wisdom of God's sovereign plans for the world (and each individual), the ultimate victory of Jesus Christ and His Kingdom despite the worst Satan and his cosmos employ against them.
4. If Daniel's attitude is a model for us, we're supposed to be deeply curious about the future and eager to understand what the revelation we have means.
Dr. Whitcomb has been blessed with 85 years of life, and he delivers his presentation from a comfortable chair at a table. Listeners should have some coffee on hand and prepare to be patient. But he speaks with vigor and spiritual passion. I doubt that anyone who has any spiritual life in him at all can listen without finding his heart moved. You can hear many of Dr. Whitcomb's discourses at SermonAudio.com. But it's not like being there.
Afterwards, I had the privilege of talking with Dr. Whitcomb for a while about a variety of subjects clustered around these themes:
The gospel and presuppositional apologetics
Science and young earth creationism
Prophecy and premillennialism
I hope you'll enjoy the interview. The file is 35 minutes in length and roughly 12 MB in size (the lower resolution file is 6 MB).
Click here to play or download (depending on your configuration).
Lower resolution version for slower connections here.
Dr. Whitcomb's books include the following:
[amazon 0802420672 smallimage]
[amazon 0802420672]

[amazon 0802420168 smallimage]
[amazon 0802420168]

[amazon 0801096790 smallimage]
[amazon 0801096790]

[amazon 0801096901 smallimage]
[amazon 0801096901]

[amazon 0875523382 mediumimage]
 [amazon 0875523382]

 
---
Aaron Blumer
is SI's site publisher. He is a native of lower Michigan and a graduate of
Bob Jones University
and
Central Baptist Theological Seminary
(Plymouth, MN). He lives in a small town in west Wisconsin with his wife and two children and has pastored Grace Baptist Church there since 2000. Prior to serving as a pastor, Aaron taught school in Stone Mountain, Georgia, and served in customer service and technical support for Unisys Corporation (Eagan, MN). He enjoys science fiction, music, and dabbling in software development.
6507 reads