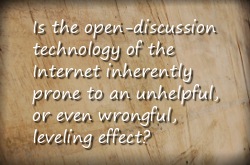 I was out of my usual haunts recently to speak at a young adults' fellowship in what we call around here "The Cities." Some of the conversation there had to do with SharperIron and, afterward, discussion with a few lingerers went to a familiar point. One young man observed that the trouble with Internet discussions goes beyond questions of the use of technology. The medium itself is a problem. It is inherently hostile to leadership because it erases distinctions and puts everyone on the same level.
A result, he said, is that "bad conversation crowds out good conversation." A related thought from someone in the group was that so much of the dynamic of persuasive speaking and writing relates to who is saying it and not simply what is being said, and the Internet forum medium tends to neutralize the who factor.
These are thoughtful critiques of the medium and worthy of prolonged attention. I want to make a small down payment here toward that prolonged attention.
The question
The big question seems to be this: Is the easy-access discussion technology of the Internet (more precisely, the World Wide Web) inherently prone to an unhelpful or wrongful leveling effect?
I'm aware that many quickly react to that question in the negative. "Of course it doesn't! Only elitists think that giving everyone even footing in a discussion is a bad thing." But I'm sympathetic to views of the alleged elitists. It's not immediately obvious to me that it's a good idea to take a random sampling of a population, put them in an auditorium, give them all microphones and announce that the goal of the session is, say, to develop a good policy for peace in the Middle East. If the group consists of a hundred people, there might be two or three at most who could be expected to have the knowledge of history, politics, government and foreign policy to supply high quality ideas. (If peace in the Middle East doesn't work for you, try brain surgery or rocket science.)
And if the question concerns theology (whether practical theology or the "impractical" kind), is the matter less important or less complex than peace in the Middle East? It is certainly not less weighty. And at least some questions in theology are as complex as the practical and sociopolitical complexities of the Middle East.
So we might as well face it: I'm probably an elitist. I'm fully persuaded that not all people are equally entitled to have opinions on every subject or equally likely to have thoughtful opinions that can be helpful to others.
In any conversation about football defensive strategies, Chinese calligraphy or quantum entanglement, I hope I'd have the sense to keep my mouth shut—or just ask questions and listen. I'm clearly unqualified to hold opinions about any of those things. And in a conversation where people just as ignorant presume to opine, I'd be on the side of those saying, "Shut up and let the smart people talk!"
Still, I hope all of you populists and semi-egalitarians (a large majority, I'm pretty sure) will keep reading. You'll be in a better position to combat elitism if you better understand how we elitists see the problem.
Questions beneath the question
To return to the big question, is the easy-access, open-discussion technology of the Internet inherently prone to an unhelpful, or even wrongful, leveling effect? To answer that question, we have to consider some others. What exactly is being leveled, in what way is it being leveled and what are the real results? To put it another way, whose views are being improperly lifted and whose are being improperly lowered? And is this leveling improper because of the kind of leveling that is happening, or because of the way it's happening, or because of the results of its happening—or some combination of the above?
What is being leveled?
If you put three theology PhDs and twenty eighth-graders in a Web forum and have them discuss some sensitive question, like whether eighth-graders are still children who must honor and obey their parents, the results are pretty predictable. The twenty eighth-graders are absolutely going to dominate. The PhDs will have trouble keeping up; they'll be out-posted something like ten posts to one! And if the participants are actually interacting, the conversation will tend to focus on who is disrespecting whom, who is being rude and who is being arrogant, rather than on the matter of honoring and obeying parents. (In defense of the eighth-graders I know, several of them would be shouting at the rest to shut up and listen to the PhDs. But that doesn't really detract from my point.)
The scenario probably turns out a bit better if everyone knows who the PhDs are and all the eighth-graders post using their real names. But the gravitation in the situation is still the same: the pull is toward bad conversation. Bad conversation tends to crowd out good conversation, and most of the participants in this example would not be capable of (or willing to produce) good conversation on the topic.
This gravitation toward fruitless talk happens because, to use the auditorium analogy, everyone's got a microphone and there is no platform. Everyone has equal opportunity to communicate, and the sheer number of uninformed people tends to determine the course of the conversation. What is leveled, then, is control of the conversation.
But more than that is leveled. In this scenario, Sam the eighth-grader can tell the three PhDs that they don't have a clue what they're talking about. And, in my experience, PhDs don't generally like being talked to that way. (Hey, they've spent more hours learning and thinking than the average eighth-grader has spent eating, texting and video gaming combined—and that's saying something!) Two out of three PhDs would probably contribute to the decay of the conversation by scolding Sam the eighth-grader, rather than disproving his assertions or patiently helping him understand why an attitude of deference would be more wise and good. (I appreciate the PhDs, but let's be realistic. They're human, and sometimes they're touchy about their knowledge because they've devoted their lives and fortunes to acquiring it. Even if the eighth-grader has a point, it just doesn't seem fair!)
So in addition to leveling control of the conversation, the open forum also tends to level the ethos of the participants. It tends to reduce the authority of experts to declare something to be true and expect others to defer to their expertise. To a lesser degree, the environment also tends to reduce the authority of a person of character and wisdom to express sound judgment and expect others to honor it. This second side of the ethos coin is far more serious, but, for reasons I hope to make clear eventually—it is also less inherently threatened by the open forum medium.
How, and with what result?
If the medium of the open Internet forum tends to result in this kind of leveling, should we move away from it as "bad technology"? I believe that conclusion is premature. We have not yet considered the mechanics of how this leveling occurs or what the results are over time. Nor have we considered what is not leveled by this medium or how its strengths and weaknesses compare to other mediums such as spoken conversation and old fashioned ink-and-paper publication. Doing so may well reveal mitigating factors or optional features of the medium that can be altered to maximize its strengths and minimize its weaknesses.
I'm open to the idea that there can be such things as "bad technologies." I'm not yet persuaded that the Internet forum is one of them.
[node:bio/aaron-blumer body]
14002 reads