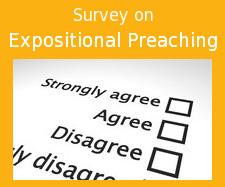 Should students be taught a single approach to expositional preaching?
For almost two thousand years, expositors have been answering the clarion call of Paul to "Preach the Word" (2 Tim. 4:2). Even a cursory review of history demonstrates that God has gifted his church (Eph. 4:11–13) with a host of faithful expositors. Men like Tertullian, Justin Martyr, Augustine, John Chrysotom, John Wyclif, Ulrich Zwingli and John Calvin each proclaimed the Word to their generation. Puritans like Richard Baxter, John Owen, Thomas Manton and John Bunyan are also noteworthy. Others like Charles Haddon Spurgeon and David Martyn Lloyd-Jones set a high standard for preachers.
Even in this post-modern generation God continues to have a voice to proclaim His Word. For each preacher whose name is easily recognizable, there is a host of faithful yet unknown men laboring to expound the Word of God to His people. Additionally, homiletic professors in Bible colleges and seminaries seek, in the power of the Holy Spirit, to teach "faithful men, who shall be able to teach others also" (2 Tim. 2:2).
While it is evident that God has, and is continuing, to use His servants to proclaim His Word, it is equally clear that preachers are as different as Paul and Peter. Some preach with the order and precision of a lecturer, some with the skill of an orator, others with the conversational style of a friend. The difference between Charles Haddon Spurgeon and Alexander Maclaren is no less obvious than in the appellation ascribed to them—Spurgeon, the "prince of all the preachers" and Maclaren, the "prince of expositors."1 Yet as a testimony to the power of God on their lives, the sermons of both Spurgeon and Maclaren are still read today with continued influence.
Despite this diversity in style and methodology, there seems to be a certain caricature of preaching that reflects an underlying, albeit subtle, issue. Certain expectations have come to characterize the preaching moment. Listeners often assume a sermon consists of "three points and a poem." Preachers, on the other hand, assume that the sermons of another preacher are the standard, not just in biblical content but in form and style as well.
I specifically recall hearing preachers who followed a particular homiletical methodology so closely that the homiletical methodology was more obvious than the exegesis of the text. The text was diminished, in my perspective, by the homiletical framework.
The recent emphasis on expository preaching is encouraging. The increasing number of conferences focusing on expository preaching along with the plethora of books, articles and blog posts on the subject are helpful. At a minimum, it has refocused our attention on the importance of preaching. Further, it could be argued that the quality of preaching has been improved; certainly it has sought to prevent preaching from straying from the text. To the champions of expository preaching, we owe a great debt.
Reviewing the books, conference materials, and blog posts, it becomes clear that each has a definition of expository preaching which emphasizes the priority of the text in defining and shaping the sermon. But it is clear that no two definitions are the same—similar elements of definition but nonetheless distinct. Each definition reflects the same goal but with a nuanced methodology.
Haddon Robinson is to be credited with keeping the preacher focused on the "big idea" of the text.2 Bryan Chapell, however, grounds the expository sermon within a redemptive-historical framework.3 More recently Abraham Kuruvilla has emphasized pericopal theology as the framework for the sermon.4 Tim Keller has emphasized expository preaching as it relates to post-modernism.5 Each of these, among others, emphasize expository preaching but in a distinctive manner.
"Preach the Word!" To Paul's urgent command we readily respond. But how then shall we preach? Must we follow Paul's methodology, and if so what exactly was Paul's methodology? Which of the methodologies available to today's preachers is the methodology to follow to ensure faithful exposition?
It is my opinion that the differing methodologies are helpful. Furthermore, it is my opinion that seminaries should teach differing methodologies for expositional preaching in order to best utilize the giftedness of those who preach the Word. This is due in part to my assertion that once in active ministry, preachers adapt their training to their own personality and style. Expositional preaching is more than a "one size fits all" methodology; it is a principle that frames sermon preparation and delivery, safeguards the pulpit, and frees the preacher to be himself.6
These assertions have been a concern for me, and are the focus of an Applied Research Project as part of the requirements for the Doctor of Ministry Degree in Advanced Expository Preaching at Dallas Theological Seminary. My research focuses on testing these assertions. The ultimate goal is to provide teachers of homiletics additional research and resources to continue their dedicated work, to better equip students to fulfill their ministry, and to see God more greatly glorified through the preaching of His Word.
If you are a preacher, please consider completing a survey I have designed to gather your input on this important topic. The survey will only take a few moments to complete and can be found at https://www.surveymonkey.com/r/ExpositoryPreachingMethods.
It would also be helpful if you would pass the survey link along to any preachers you may know. The more broadly the survey can be disseminated, the greater will be the benefit the results.
Your assistance is greatly appreciated.
Preach the Word!
Notes
---
Jeffrey W. Kelley is the Pastor of Grace Baptist Church, Liberty, South Carolina where he was preceded by his father, Clifford W. Kelley, who served there twenty-one years. He is a graduate of Bob Jones University (MA, SMin) and has a DMin in progress at Dallas Theological Seminary. In addition to pastoring, he continues to work bi-vocationally providing Chief Financial Officer and Controller services with a local firm. He is a Certified Public Accountant, a Chartered Global Management Accountant and is a member of the American Institute of Certified Public Accountants and the South Carolina Association of Certified Public Accountants.
806 reads
3692 reads