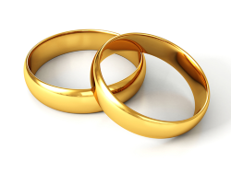 What's the purpose of marriage? Is it sex? Is it to make lots of babies? Why did God create "marriage," what's His purpose for it, and what difference should this make in your married life?1 Genesis 2:18-25 has some answers for you, and we'll explore this issue by a series of questions from the text.
Then the LORD God said, "It is not good that the man should be alone; I will make him a helper fit for him." Now out of the ground the LORD God had formed every beast of the field and every bird of the heavens and brought them to the man to see what he would call them. And whatever the man called every living creature, that was its name. The man gave names to all livestock and to the birds of the heavens and to every beast of the field. But for Adam there was not found a helper fit for him (Genesis 2:18-20).
Q1: In the Genesis creation account, did God ever tell the man to exercise dominion over the woman?
No, He didn't. God's commands in Genesis 1 are for both Adam and Eve. He commanded both of them to exercise dominion over all creation together (Gen 1:28-30). This doesn't mean there isn't a hierarchy of roles (not dignity and worth) within the marriage relationship. It just means the focus of the two creation narratives aren't on roles within marriage; we must go elsewhere for that information.
Whatever else marriage is about and what it's intended for, the Book of Genesis does not say it's about a man exercising dominion over a woman.
Q2: Why did God create Eve?
God created Eve for Adam's companionship; "it is not good for man to be alone," (Gen 2:18). Creation was not complete, not fully "good" for man, unless he had someone to share it with. God is triune; one Divine Being consisting of three distinct Persons who are in eternal, constant fellowship and union with each other. One of the ways in which we reflect God's image is that He hard-wired us to crave and need emotional and social fellowship in a covenant relationship. That covenant relationship is the biblical institution of marriage.  
The bible tells us God gave very special thought and consideration to creating Eve; He specifically designed them to be compatible with each other in an image-bearing way. God intended this relationship to be very special. It's clear, from the bible, that marriage is a covenant of companionship.
In Proverbs 2, for example, Solomon tells us all about the value of Godly wisdom. This wisdom has many benefits; "discretion will watch over you, understanding will guard you, delivering you from the way of evil, from men of perverted speech, who forsake the paths of uprightness to walk in the ways of darkness," (Prov 2:11-13). More than that, it has implications for the marriage relationship:
So you will be delivered from the forbidden woman, from the adulteress with her smooth words, who forsakes the companion of her youth and forgets the covenant of her God; for her house sinks down to death, and her paths to the departed; none who go to her come back, nor do they regain the paths of life.
In this passage, this "forbidden woman" has simultaneously done two things wrong:
She's forsaken her husband ("the companion of her youth"). You should consider the implications of the term "companion," in light of our discussion of Eve as a "helper" who is "fit" for Adam, below.
She "forgets" the marriage covenant she made with God.
The marriage relationship is a covenant agreement before God; a sacred pact in His sight that has deep meaning. In the Book of Malachi, that prophet has some more insight for us. He's criticizing Israelites for their hypocrisy; all of them have returned from exile and are supposed to be trying to "make a go" of it back in the Promised Land. The prophet wrote:
And this second thing you do. You cover the LORD's altar with tears, with weeping and groaning because he no longer regards the offering or accepts it with favor from your hand. But you say, "Why does he not?" Because the LORD was witness between you and the wife of your youth, to whom you have been faithless, though she is your companion and your wife by covenant. Did he not make them one, with a portion of the Spirit in their union? And what was the one God seeking? Godly offspring. So guard yourselves in your spirit, and let none of you be faithless to the wife of your youth (Malachi 2:13-16).
We learn several things from this short passage:
God doesn't accept their worship because the men have been "faithless" to their wives.
A man's wife is his "companion" and "wife by covenant."
The natural result of this marriage covenant should be "godly offspring" (see all of Deuteronomy 6 for a parent's obligations to his children).
Marriage is supposed to be characterized by a husband's love for his wife
Again, marriage is a covenant relationship, and Eve was created to make the complementary "other half" of this partnership.
Q3: God said, "I will make him a helper fit for him." What does a "helper" mean?
It means God decided to create someone to help Adam in his God-given duties. It means Adam wasn't capable of doing it on his own. Adam needed a helper so he could actually carry out his mission, and this helper had to correspond to him. In a very real way, perhaps "partner" (cf. NEB) expresses it best. Eve is a partner for Adam:
A partner who shares his mission and without whom he couldn't complete that mission, and,
A partner who "completes him" (thanks, Jerry Maguire!) and corresponds to him in a unique way
Q4: Adam named all the animals, and didn't find "a helper fit for him." As a result, God created Eve. What does this teach Adam (and us) about Eve?
It teaches us many things. One important implication is that husbands ought to prize and value their wives as a very special creation God gave them; a special partner to "complete us" who is unique in all of creation. The "deep sleep" which God put on Adam preserved the divine mystery of her creation, and it's the reason for Adam's delightful surprise at her appearance:
So the LORD God caused a deep sleep to fall upon the man, and while he slept took one of his ribs and closed up its place with flesh. And the rib that the LORD God had taken from the man he made into a woman and brought her to the man. Then the man said,

This at last is bone of my bones and flesh of my flesh; she shall be called Woman, because she was taken out of Man," (Genesis 2:21-23).
Q5: In what way is Eve "fit," "suitable" or "corresponding to" Adam?
This means Eve is complementary; they help each other as a team to achieve their creation mandate. They're "made of the same stuff," in that God made Adam unique and Eve is derived from him, not from anything else in creation. They're "made for each other," in both a sappy and non-sappy way!
Paul seems to allude to the "rib creation" when he tells the Ephesian church, "husbands should love their wives as their own bodies. He who loves his wife loves himself," (Eph 5:28). Because a married man and woman are, quite literally, "made off the same stuff," they ought to love each other as much as they love themselves.
Q6: What is suggested by the fact that God made Eve, then "brought her to the man?"
It suggests "paradise" is now complete and final. God is the "builder" who's presenting Adam his only human companion and partner. Adam's response tells us he's delighted with God's creation, and that she is indeed a perfect partner for him in life.
Sex isn't even mentioned here; God's inspired focus is a mutual partnership and companionship between man and woman so, together, they can accomplish His creation mandate (Gen 1:26-28).2 Sexual relations are, at best, a subset of the general umbrella of "companionship."
Therefore a man shall leave his father and his mother and hold fast to his wife, and they shall become one flesh. And the man and his wife were both naked and were not ashamed (Genesis 2:24-25).
Q7: Why does a man leave his father and his mother?
Men and women leave their parents for the kind of covenant companionship God designed them to have with each other.
Q8: Now that a man has left home, and entered into this covenant with his wife, what does this imply about their mutual responsibilities?
It means their primary covenant love and loyalty has been transferred from their parents to their new spouses. Of course, men and women must each honor their fathers and mothers. But, the focus has now shifted. The child has gone out on his own, and is starting his own family with his own covenant partner.
Principles and Implications
There are a few overarching principles from the passage:
Marriage is a covenant of companionship. It was designed by God to defeat loneliness and allow a man and woman, as a complementary team, to achieve what God intended for them. It's a covenant of companionship.
If marriage is a covenant of companionship, this means both spouses have a divine commitment to fulfill their end of that covenant.
Here are some implications:
Each spouse has an obligation to meet the other's need for companionship. Marriage is not about "getting;" it's a covenant for each spouse to give to the other. Love itself is a decision. As one popular song observed, "it's more than a feeling …"
This means each spouse has a duty to selflessly consider what's necessary to fulfill the other's need for companionship. A married person should consider, "in general terms, in what areas does my spouse need companionship from me?"
Once spouses have a general idea of what needs to be done, each spouse has a duty to seriously strategize about how to fulfill the other's need for this companionship. Each spouse should consider, "What, specifically, can I do to fulfill my spouse's need for companionship?"  
Marriage is a sacred responsibility. It's a covenant in which two sinners agree to provide companionship for one another, until they die. It's made before God, and He takes it seriously. 
Notes
1 This article is heavily influenced by Jay Adams, Solving Marriage Problems: Biblical Solutions for Christian Counselors (Grand Rapids: Zondervan, 1983) and K. A. Mathews, Genesis 1-11:26, vol. 1a, New American Commentary (Nashville: Broadman & Holman Publishers, 1996).
2 "Although naming indicates authority in the Old Testament, the narrative of Eve's creation as a whole takes steps to show that the woman is not subject to the man in the same sense that the animals are subject to him. Rather, the text presents them as partners who together exercise rule, fulfilling the mandate of 1:28 by exercising their appropriate sexual functions and respective intrahuman roles," (Mathews, Genesis 1-11:26, 221).
4313 reads