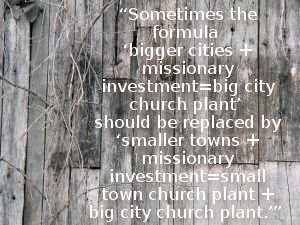 Few people have ever captured and caricatured all levels of American society more successfully than did cartoonist Al Capp in his classic comic strip "Li'l Abner." Arguably, the funniest sequences in the series are those where Abner, Mammy, or other members of the Yokum clan venture from their home in Dogpatch into the big city. There they interact with the urbanites, and hilarity ensues. For all of their sophistication and culture, the socialites can never seem to get the best of the hillbillies from the Ozarks.
The purpose of this article is to suggest that Al Capp—unwittingly, to be sure—suggests a viable model for rural/urban church planting.
In today's evangelical world there is a heartening new emphasis on the church plant. Many of the efforts are being focused on urban centers—with works like Redeemer Presbyterian in New York or Mars Hill in Seattle being held up as examples for others to follow. Cities are the natural choice, it is argued, because they have more people, and because they set the culture for the rest of the world.
Based on those two facts, I heard one preacher affirm that all ministries (and the context was "church-planting") should be city-focused.
While the above mentioned factors cannot be denied, I would like to suggest that they do not tell the whole story. Let me share two observations gleaned from my formative years in the US and our current ministry in Northeast Brazil.
1. The natural flow of people is from Dogpatch to the big city, not vice-versa. Therefore, while someone from the city may feel called by God to minister in the rural areas, rural people go to the cities because they have to.
2. Unlike the comic strip, when people leave Dogpatch for the big city, they do not normally return. Once again, someone may feel called to go back and minister to his former-fellow hillbillies, but this is not the natural progression of events.
Based on these two observations, I would like to make a radical proposal: an effective way to reach the city is to invest in rural church-planting.
What follows is a real-life case study from here in Brazil.
In 1991 a Brazilian man named Paulo Alves moved his family to a small, interior town called Boa Viagem. He had accepted Christ some years earlier in another interior city where Baptist Mid-Missions missionaries have been working since the 1930's. Upon his arrival in Boa Viagem he discovered that there was no Gospel-preaching work there. After the state association of churches declined his request to send a missionary (the town was deemed too insignificant for such a major investment) Paulo took matters into his own hands, and in 1992 a congregation was formed.
Not long afterward, Paulo and another layman from Boa Viagem began holding meetings in a nearby village called Madeira Cortada. It was from this smaller, more remote congregation that a group of merchants, looking for greener economic pastures, moved to the major cosmopolitan center of Fortaleza—specifically to a neighborhood called João XXIII. Finding no adequate church there, they asked if Paulo Alves and his co-worker would come and hold Bible studies. This they did, despite the distance and financial hardship involved.
Some time later several young people from the Boa Viagem church went to study in one of Fortaleza's many universities. Naturally, they gravitated toward the newly-formed congregation, made up of people they already knew.
As it reached out into the community, the João XXIII work grew to the point where they needed full-time leadership. They called an American missionary to work with them, and subsequently it was organized into a full-fledged local church with a national pastor.
Today the rural churches in Boa Viagem and Madeira Cortada are thriving, as is the urban João XXIII church they planted.
What Does This Mean?
A church-planting strategist would have advised starting a church in the João XXIII neighborhood instead of the relatively insignificant Boa Viagem. The end result would have been a church in João XXIII. But Paulo Alves' initiative in Boa Viagem resulted in a church in Boa Viagem, one in Madeira Cortada, and one in João XXIII.
I could list several other instances where this model played out. Recently I spent a weekend in the megalopolis of São Paulo visiting friends who are originally from this part of Brazil. They were part of a youth group I worked with in 1995 in rural town called Campos Sales. Almost all of the members of that youth group now live in São Paulo within walking distance of each other. They attend a variety of evangelical churches. My friends told me that if we were to send a Baptist church-planter to that neighborhood, they would have a ready-made congregation. Once again we see the potential impact of a rural church-plant on the big city.
Recently a Brazilian pastor tried to convince me that I should choose an urban center as my next field of service with the argument that it was "the biblical model". He proceeded to cite Paul and his ministry in urban centers.
Granted, Paul does present us with a biblical model. But is it the biblical model?
Consider the fact that when God sent his Son to Earth, it was not to Rome, or even Jerusalem. He was born in Bethlehem (in a barn—it doesn't get more "hillbilly" than that) and spent his formative years in Nazareth. Several of the disciples he chose were of the—shall we say—backwater variety (Acts 4:13). Yet it was these men who filled Jerusalem with their teaching (Acts 5:28) and rocked the sophisticated religious leaders back on their heels. Abner Yokum would be proud.
Conclusion
I love strategic plans, especially when they have to do with missions. The task of matching personnel and resources to places of need is thrilling to me. The danger in our planning, however, is that we can miss opportunities based on faulty reasoning. Sometimes the formula "bigger cities + missionary investment=big city church plant" should be replaced by "smaller towns + missionary investment=small town church plant + big city church plant."
My appeal is this: in the midst of our planning and "strategery," let us not forget the Al Capp model. Let's invest in Dogpatch, and watch them turn the big city on its head.
---
Andrew Comings
is a Baptist Mid-Missions missionary in Ceará, Brazil where he serves as Coordinator for Ministry Internships at the Cariri Baptist Seminary. He and his wife, Itacyara, have two sons: Michael and Nathanael. In his spare time Andrew blogs in English at
www.comingstobrazil.com
and in Portuguese at
cadernoteologico.wordpress.com
. Despite his field of service, Andrew does not drink coffee in any of its manifold forms.
4802 reads