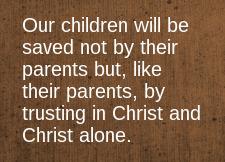 From VOICE, May/Jun 2015. Used with permission. Read Part 1.
Foundation For Youth Ministry
There is a great need for a Bible-based ministry directed at young people yet there are certain convictions that cannot be compromised in biblical youth ministry. The following ten con­victions lay a firm foundation for local church youth ministry.
1. The absolute authority of Scripture
The Bible is the Word of God and is inspired by God (2 Timothy 3:16, ­17) and is infallible, without error and sufficient in every way for every spiri­tual need for the believer no matter his age. The Bible is the final authority in everything and has everything we need pertaining to life and godliness (2 Peter 1:3-4). In our secularized culture, the counsel that students receive is often not biblical. It is important that the local church youth ministry give truly biblical counsel to students who are seeking help with their problems.
2. A high view of God
In a world that minimizes or denies God's greatness, our youth ministries should exalt God's character and attributes as revealed in Scripture. We must direct our young people to know and understand who God is in hope of bringing Him honor and glory through our lives and ministry. We must teach our teens to consciously resist a man-centered worldview as opposed to a God-centered worldview. We must teach that God is our creator and is sovereign over all things. He is Lord over our lives and everything we achieve in life is derived from Him. We must submit to him in humility.
3. A correct view of man
Contrary to the world's notion that man is basically good, the doctrine of total depravity is an essential conviction in youth ministry. Man is created in God's image (Genesis 1:26), yet sinful (Ephesians 2:1, Romans 3:10-11; 3:23, Jeremiah 17:9). While man looks upon the outward acts, and judges them to be good, God looks upon the outward acts and also the inward motives that lie behind them, and because they pro­ceed from a heart that is in rebellion against Him and they are not done for His glory, even these good deeds are like "filthy rags" in His sight. Students must be taught to see themselves as God does.
4. Evangelistic and gospel-centered
The initial focus of Youth Ministry must be the salvation of youth through the proclamation of the gospel of Jesus Christ. There's so much more to disci­pling your children than just getting the right information about God into their heads. There is an eternal difference between knowing about God and know­ing Him personally. Who cares about knowing God the way the devil knows God? Our hope for our children is that they would know God in a saving rela­tionship with Him. Our children can't earn their salvation and we can't earn it for them. They will be saved not by their parents but, like their parents, by trust­ing in Christ and Christ alone.
5. Personal holiness and godly discipline
We must call Christian young people to live holy lives. We must maintain a clear line between God's definitions of right and wrong and holiness vs. the world's definitions. We must make sure that our words, programs, and meth­ods help youth understand that "these are Christ's standards and those are the world's standards" and the most impor­tant decision they will ever make is deciding which side of the line to stand on. Who are you with? The temptation of youth ministry is to blur the line. We need to boldly challenge our kids not to be ashamed of Christ and of holiness.
6. Sound Doctrine
A biblically centered youth ministry begins with the absolute authority of Scripture and must balance an empha­sis on the gospel with teaching basic Christian doctrines. The careful teach­ing of God's Word leads to sound doctrine (1 Timothy 4:6). Timothy was to be concerned with guarding the truth of sound doctrine (1 Timothy 1:3 and 6:20). Through the teaching of the Scripture and the message of Christ's work on the cross and the Lordship of Christ in one's life, an individual will properly begin his or her Christian life.
7. Godly leadership
Godly leadership is vital to student ministries. The age we are dealing with is the period of life when they are most impressionable. Students are looking for people to model their lives after and we must remember that they are looking at our examples. If we, the leaders, are not living out lives that are beyond reproach, we cannot expect the students to take and apply to their lives what we are teaching them. The passages in 1 Timothy 3 and Titus 1 lay out for us the character qualities of a godly leader. It is crucial in a biblically based student ministry that we have godly role models for leaders.
8. Committed parenting
The Bible commands parents, and especially fathers (not youth pastors) to train up their children in the way they should go (Ephesians 4:11; 6:4). The youth ministry is to come alongside the parent to encourage the parents and not to replace them. The student min­istry should seek to teach the student the importance of the family and God's intent in regards to authority in the home through honoring their fathers and mothers. Having significant male leaders in youth ministry teams provide a context for extending modeling and mentoring of godly manhood for the boys and girls in the group. Without male leaders, children quickly learn that church is a place for women and children.
9. Teachable students
The role of student ministry in the church is to support the shepherding of children who are developing into adulthood. Parents who mentor, and adult teachers who disciple, are crucial in the process. But without teachable students we cannot accomplish our spiritual goals for our young people. It is important to seek to develop students who desire to know God and who want to grow in their walk with Christ and bring others to Him. We must seek to shepherd the hearts of our stu­dents, praying they will become teachable and responsive to God's Word.
10. Supernatural work of God
No ministry in the local church can accomplish anything of eternal value apart from the supernatural work of God through His Word and His Spirit. How much more true this is, given the bad combination of imperfect children, raised by imperfect parents, in imperfect churches, surrounded by a world filled with evil influences! Only God can take imperfect parents, pas­tors, and churches and supernaturally use them to be His instruments in the process of delivering the gospel to our young people and instructing them in the way of righteousness. We must lean heavily upon God's supernatural enablement as we minister to young people. We must pray for our children!
Conclusion
We should ask ourselves: "What's the most important thing we can teach our children?" Of course the most vital thing to teach any child is the redemption and forgiveness of sins that comes from faith alone in Christ alone. What's striking to me is how many people come to faith in junior high or high school, both from Christian and non-Christian homes. This is an opportune season to share the gospel with people. We must never assume that kids from even the best of Christian homes have truly been regen­erated. Our youth ministries should take every opportunity to biblically and accu­rately and creatively present the gospel, never knowing when God will choose to save one of our young people.
One ministry leader, who grew up in a Christian home and in a solid church, looks back on his teen aged years in this way:
Though I believe my pre­adolescent conversion was real—God is gracious to produce and honor a small seed of real faith—it was hard to swal­low that I was that bad. God showing favor on me in redemption made sense because others had shown favor on me. But it was hard for me to see that this favor was not the approval of a good kid but the pardoning of a condemned sinner. Really? Me deserve hell?*
His personal incredulity regarding being a condemned sinner is an important per­spective to remember whenever standing in front of kids from even the best of Christian families. Preach the gospel!
After recognizing their child's need for the gospel, when considering the goals that most Christian parents have for their children, the emphasis seems to be on raising well-behaved kids. As if being well-behaved is the end-all goal of Christianity…be good. The thinking often is that "if I have good kids, then I am a good parent," or "if my kids know all the rules and follow them, then I have done my job." An added bonus will be if your child graduates from col­lege or develops an exemplary skill of some sort or marries a nice Christian. But all too often parents' goals for their kids boil down to the children adopting good behavior.
Parents, don't seek to merely raise good kids who are compliant and who have buoyant, warm personalities, the kind of kids who never get into any serious trouble, who are liked by teach­ers and who get respectable grades in school, who are leaders in their church groups and have plenty of good friends. All of that is great, but not enough.
Make sure you seek to raise genu­ine Christ-followers who understand the gospel and who have personally embraced it with genuine faith. Make sure you and your church challenge your children to follow hard after Christ and to strive to become committed fol­lowers of Jesus Christ, no matter the personal cost. Pray they will take risks, in faith, for the glory of God.
Bible-based youth ministry in a church deals with some of the most important and impressionable years in a person's life. The church must take advantage of these years and challenge each student to a life of sanctification, praying that God would use the teach­ing of His Word and the ministry of His people to bring students to a closer relationship with, and a greater under­standing of, their Savior.
And in the May/June issue of VOICE, you will see how the IFCA International Youth Council attempts to assist par­ents and churches and teens to become all that God wants them to be. They have implemented a very focused youth ministry philosophy: "Encouraging and equipping students to serve in their local church today"…for Christ's glory, and the good of the Church. Read and be inspired by our wonderful IFCA youth ministry. And pray for our young people and their par­ents that they will be encouraged and equipped for every good work.
* Jon Bloom, "Don't Raise Good Kids," originally posted on the Desiring God Blog, November 18, 2013. http://www.desiringgod.org/articles/don-t-raise-good-kids
---
Les Lofquist earned his BA at Grace College, and his MDiv at Grace Theological Seminary. Over his years of ministry, he has served as a missionary church planter, Bible college instructor, youth pastor and senior pastor. He has served as Executive Director of IFCA since 1999. He and his wife Miriam have been blessed with several children and grandchildren.
1113 reads
2993 reads