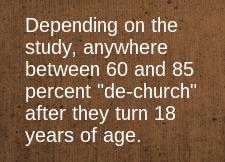 From VOICE, May/Jun 2015. Used with permission.
Raising teens to become faithful Christian adults has never been easy. Like all of us, our children enter this world as sinners with hearts that must be transformed by the Holy Spirit. This is biblical truth: there is no perfect family or perfect parent or perfect church; all of us are sinners and are imperfect people in desperate need of the Gospel of Jesus Christ. yet…as imperfect parents, imperfect pastors, imperfect teachers and imperfect mentors we are commanded to be God's instruments in the process of delivering the Gospel to our young people and instructing them in the way of righteousness.
But this is a bad combination: imperfect children, raised by imperfect parents, in imperfect churches, surrounded by a world filled with evil influences. Our teens are bombarded by an ungodly culture that is increasingly narcissistic, pornographic and captivated by superficial interests and instant gratification. Today, many young adults prefer to linger on the couch in their parent's basement playing video games or fantasizing about other people's lives through Facebook rather than completing the journey to adulthood. They're less resilient in the face of difficulty, more dependent on their parents, and more distracted by digital and visual media than former generations.1
Not only are young people "de-churching" in droves (depending on the study, anywhere between 60 and 85 percent "de-church" after they turn 18 years of age), they are not "re-churching" after getting married and having children as in previous generations. What can we do?!
Key to Youth Ministry
The key in youth ministry is godly parents, led by a father committed to obeying Jesus Christ, supported by the ministry of a Bible-teaching church which upholds God's teachings for all the family members…
training
modeling
discipling
by parents
in homes
before the kids go out,
then the family fully engaging in a local church where biblical values are reinforced and godliness is encouraged for all ages and where ministry training occurs.
What we impart to our children—in our speaking, listening, and by our example—makes a huge difference. If we teach them to see every aspect of their lives under the lordship of Christ, to take initiative, assume responsibility, accept correction, work (and study) unto the Lord, persevere in commitments, live from biblical convictions, nurture faith-sustaining friendships, and be faithful stewards of their time, talents, and treasure, and do it all with the deepest joy and richest laughs, our teens can thrive.2
We realize the destiny of the souls of our sons and daughters is at stake. This means all of us in the church must be vitally interested!! We want our children to become devoted followers of Jesus Christ, kids who grow and mature and live for Christ as committed disciples. But how is this accomplished? How do we help students in grades 7-12 transition to adulthood while learning to trust, honor and obey God in their lives? What should be done at home and in the church?
There are some churches that desperately seek to keep their teens engaged in church by entertaining them with an endless array of fun activities led by their high-energy youth pastors who often act more like clowns. These churches measure success by the numbers involved in group activities. But when their students graduate, and learn that regular church isn't as much fun, they bail.
On the other hand, there are devoted followers of Christ who say that since the Bible is silent about youth ministry, there is no place in our churches today for a specifically designated local church ministry to youth. They are repulsed by the normal entertainment model for youth ministry and so they throw it all out. "We do not have youth ministry in our church because the model is inherently flawed… Let me be clear. There is no such thing as 'biblical' Youth Ministry."3 Another long-time, now former, youth minister calls modern youth ministry (dividing children from adults at church) an unbiblical concept borrowed from humanistic philosophies and it represents a fifty-year failed experiment.4
I agree that an entertainment-based youth ministry is clearly wrong. But is it wrong to organize some age-based ministries in local churches that are specifically designed to encourage and equip young people? I don't think so and I believe Ephesians 4:12 makes this clear.
Ephesians 4:12 says that the leaders of the local church, gifted by the ascended Christ, are to "equip the saints for the work of ministry, for building up the body of Christ" (Ephesians 4:12). I believe that this process must not to be limited to fully mature adults. Young people must be a part of the Ephesians 4:12 process in some way. I also believe this process involves equipping Christian parents and students (in the local church context) and encouraging them in ministry, especially encouraging Christian parents to be faithful in their role with their children. One of the goals of Ephesians 4:12 must involve saturating students and families with the Word of God and challenging all of them to exalt and honor the name of Christ through obedience to His Word, building up the local church and ministering the Gospel to the lost.
One of the practical implications of Ephesians 4:12 is making sure what really matters in local church ministry is intentionally and purposely planned. And I believe that includes encouraging and equipping our young people in the local church to become life-long, committed followers of Jesus Christ. Ephesians 4:12 is the key to youth ministry.
Elsewhere the Bible makes it clear that vouch and young adults had an active role to play in accomplishing God's work on earth. Both Old and New Testaments contain examples of those who were called to serve the Lord as young people: Joseph, Samuel, David Josiah, Daniel and his three friend: Hananiah, Mishael, Azariah, Mary of Nazareth, even Jesus in the temple at age 12. It was to a young man Timothy that his mentor Paul wrote:
"Let no one despise your youth [look down on you] but be an example to the believers it word, in conduct, in spirit, in faith and in purity" (1 Timothy 4:12).
Young people should do more than sit and quietly learn in church next to their parents or get up and fool around in church until they grow up. They can serve Christ today. And we should encourage and equip them to do so.
There is a great need for a Bible-based ministry directed at young people yet there are certain convictions that cannot be compromised in biblical youth ministry. Ten convictions lay a firm foundation for local church youth ministry. These are the focus of Part 2.
Notes
---
Les Lofquist earned his BA at Grace College, and his MDiv at Grace Theological Seminary. Over his years of ministry, he has served as a missionary church planter, Bible college instructor, youth pastor and senior pastor. He has served as Executive Director of IFCA since 1999. He and his wife Miriam have been blessed with several children and grandchildren.
917 reads
3547 reads