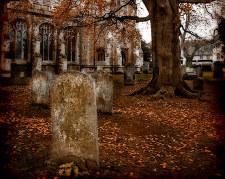 Read the series.
A New Approach - Life Led by the Spirit
The simple fact is that many people around you today are driven. They are trying to satiate their inner lusts. Others are clothed in religious piety and chasing a list. Neither of those things will work for very long. They are both exhausting and will leave you tired and empty. There is a third way, and Paul offered us a picture of it in Romans eight.
First, get rid of the guilt, and grab the Savior's hand.
Therefore, there is now no condemnation for those who are in Christ Jesus, 2 because through Christ Jesus the law of the Spirit who gives life has set you free from the law of sin and death. (NIV, Rom. 8:1)
Christians notoriously get wrong the meaning of this passage. The "law of sin and of death" is this: "sin brings death; where there is sin, one will die." The atonement system was a temporary substitution—a man sinned but a lamb died. In Christ, a man sinned but the Savior died, once for all. The law of continuous and temporary atonement through the death of animals was voided, because Jesus paid the full bill for sin.
Step back for a moment. Take a breath and recognize that Jesus paid for your sin. Take your choices seriously, but don't think that it all rests on your shoulders. Jesus is walking through this with you.
Second, remember that Jesus' payment was for a purpose.
For what the law was powerless to do because it was weakened by the flesh, God did by sending his own Son in the likeness of sinful flesh to be a sin offering. And so he condemned sin in the flesh, 4 in order that the righteous requirement of the law might be fully met in us, who do not live according to the flesh but according to the Spirit. (Rom. 8:3-4)
Atonement was able to cover sin, but not change the heart in the way that surrender to Jesus does. His coming as a man, and His full payment at the Cross offered us a new relationship, characterized by the lodging of the Spirit of God within us. That should change our focus. Jesus didn't come to make us miserable list-keepers, or licensed sinners. He came to make salvation fully available, and the Spirit's indwelling permanently operative.
Here is the problem: without the indwelling Spirit, we would have to tough out a walk with God, fighting relentlessly against the sinful desires of our flesh—but that isn't the call of the believer. Jesus came to bring us peace with God and the powerful work of the Spirit within. In fact, Paul made clear:
Those who live according to the flesh have their minds set on what the flesh desires; but those who live in accordance with the Spirit have their minds set on what the Spirit desires. 6 The mind governed by the flesh is death, but the mind governed by the Spirit is life and peace. (Rom. 8:5-6)
Third, recognize that you need to choose to live the life God called you to live.
The mind governed by the flesh is hostile to God; it does not submit to God's law, nor can it do so. 8 Those who are in the realm of the flesh cannot please God. 9 You, however, are not in the realm of the flesh but are in the realm of the Spirit, if indeed the Spirit of God lives in you. And if anyone does not have the Spirit of Christ, they do not belong to Christ… . 12 Therefore, brothers and sisters, we have an obligation—but it is not to the flesh, to live according to it… .14 For those who are led by the Spirit of God are the children of God. (Rom. 8:7-14)
We have a choice, but we also have an obligation. Don't think that God doesn't notice how little you regard Him in your life's decision-making. He knows. He notices. He is ready to offer you the greatest gift you will ever be given—more intimate time with Him—if you will desire it and choose time with Him!
Finally, stop worrying about doing it all right, and start focusing on a walk that embraces God's love.
Make choices because he loves you, not to get Him to love you!
Who shall separate us from the love of Christ? Shall trouble or hardship or persecution or famine or nakedness or danger or sword? 36 As it is written: "For your sake we face death all day long; we are considered as sheep to be slaughtered." 37 No, in all these things we are more than conquerors through him who loved us. 38 For I am convinced that neither death nor life, neither angels nor demons, neither the present nor the future, nor any powers, 39 neither height nor depth, nor anything else in all creation, will be able to separate us from the love of God that is in Christ Jesus our Lord. (Rom. 8:35-39)
Beloved, the days are drawing to a close when we can keep "playing at our faith." We must look more carefully at the choice to follow Jesus, and how that affects all of our life choices. We must not dabble in lust and license or chase after loveless lists. It is time for us to recognize the great gift Jesus offers us—Himself. He will walk with us. His love will move our hands and feet if we learn to move at the impulse of His will. Giving yourself to Jesus is an act of dedication that needs to happen again and again—until we truly recognize that a Spirit-led life is something more than avoiding big sins and saying God words. Dedication is costly. An old story reminds…
Bertoldo de Giovanni is a name even the most enthusiastic lover of art is unlikely to recognize. He was the pupil of Donatello, the greatest sculptor of his time, and he was the teacher of Michelangelo, the greatest sculptor of all time. Michelangelo was only 14 years old when he came to Bertoldo, but it was already obvious that he was enormously gifted. Bertoldo was wise enough to realize that gifted people are often tempted to coast rather than to grow, and therefore he kept trying to pressure his young prodigy to work seriously at his art. One day he came into the studio to find Michelangelo toying with a piece of sculpture far beneath his abilities. Bertoldo grabbed a hammer, stomped across the room, and smashed the work into tiny pieces, shouting this unforgettable message, "Michelangelo, talent is cheap; dedication is costly!" (Gary Inrig, A Call to Excellence)
Our surrender to Christ is like a "death" to the former masters of our life. That act breaks our obligation to serve sin and meticulous atonement laws to "keep ourselves in God's favor"—replacing sin and service with the gentle guidance of God's Spirit within.
---
Dr. Randall Smith is Teaching Pastor at Grace Church of Sebring, Florida; Director at Global Vision Outreach, Inc.; and a teacher at Great Commission Bible Institute. He bogs regularly at The Wandering Shepherd.
1144 reads
1391 reads