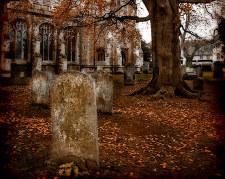 Read the series.
A New Approach - Life Led by the Spirit
The simple fact is that many people around you today are driven. They are trying to satiate their inner lusts. Others are clothed in religious piety and chasing a list. Neither of those things will work for very long. They are both exhausting and will leave you tired and empty. There is a third way, and Paul offered us a picture of it in Romans eight.
First, get rid of the guilt, and grab the Savior's hand.
Therefore, there is now no condemnation for those who are in Christ Jesus, 2 because through Christ Jesus the law of the Spirit who gives life has set you free from the law of sin and death. (NIV, Rom. 8:1)
Christians notoriously get wrong the meaning of this passage. The "law of sin and of death" is this: "sin brings death; where there is sin, one will die." The atonement system was a temporary substitution—a man sinned but a lamb died. In Christ, a man sinned but the Savior died, once for all. The law of continuous and temporary atonement through the death of animals was voided, because Jesus paid the full bill for sin.
Step back for a moment. Take a breath and recognize that Jesus paid for your sin. Take your choices seriously, but don't think that it all rests on your shoulders. Jesus is walking through this with you.
1550 reads