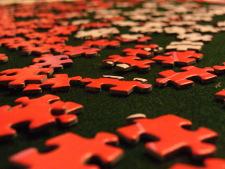 Conclusion: The Taste and See Apologetic
Psalm 34:8 invites the reader (or listener) to "Taste and see that the Lord is good." In the context David recounts how God had delivered him from something he deeply feared, and he calls upon those who know God to exalt Him. The Psalm is a rich testimony of the faithfulness of God in the lives of those who depend on Him.
While it addresses "saints" (34:9), and is thus not inherently evangelistic, the theme, content, and delivery fits well Peter's apologetic paradigm from 1 Peter 3:15. It certainly offers an account of the hope that was within the Psalmist. Again, even though David addresses saints in the near context, his invitation to "taste" in verse 8 implies that his intended audience in the immediate context had not yet tasted.
It is fitting, I think, to draw a secondary application of Psalm 34:8, suggesting that such an invitation would be fitting for an apologetic/evangelistic encounter – especially in engaging the common sentiments of Millennials and iGens.
Those commonalities (listed in Part 2) are highlighted in parentheses in the sections below. Psalm 34:8 invites the reader to become personally engaged (4) in the worldview. "Taste and see that the Lord is good." Taste what? All that He has done, recounted in personal testimony terms, much like David employed in the Psalm. That personal perspective doesn't change the message, but it contextualizes the message in such a way as to make the message demonstrably relevant. This is, I think, part of Peter's intent in encouraging believers to be ready to discuss the hope that is within them. This approach also adds a degree of personal connectivity and vulnerability (3) that the contemporary listener values.
Rather than beginning without the existence of God and arguing to his existence, we begin with the presumption of His existence. After all, that is the Biblical starting place advocated in Genesis 1:1, Psalm 14:1, Proverbs 1:7, 9:10, Ecclesiastes 3:11, John 1:1, and Romans 1:20. Arguing from the existence of God rather than to it is not a proof of His existence, rather it is an explanation of all of reality through a particular (Biblical) lens. "Taste and see that the Lord is good." From there, we are transparent (1) about the source of our authority: our epistemological basis is that God, as revealed in the Bible, is the source of our authority and the basis for the Biblical worldview.
Starting from the Bible means that we are asserting significance and meaning (5) from the start. We are working with a metanarrative (2) revealed in and implied by the Bible. We are not trying to argue the inerrancy of Scripture at this point, we are simply assuming it and asking them to go along, even if only for the sake of sampling God's worldview to see if indeed He is good. Once we have been transparent regarding the basis of the worldview, we can begin to flesh it out with an explanation of reality. It means that the great God described in the Bible has created, and then reached out to His creation to communicate Himself and establish a relationship with His creation.
Because the creation is fallen, and humanity is separated from God through an inherited (from Adam) violation of God's character and glory, the whole world is broken and does not function as it was designed. This is a powerful explanatory device, helpful in exegeting culture (6). Contemporary illustrations of the dysfunction are, regrettably, not hard to find, and drive the point home. He designed us to express His glory – to demonstrate His character, and part of that is in our being personally and individually relational and engaged (4) with the Creator of all things – as His children, no less.
To resolve that separateness, fallenness, and dysfunction, God showed the ultimate participation (8) of love with His creation, in that He sent His own Son as the perfect God-Man, who would die a substitutionary death to pay the cost owed to the Father for the violation of His character. The rightness, forgiveness, and wholeness required to have a new relationship with God is not accessible through religious systems or even participating in faith communities (7), but only by belief in the Person who is the Way, the Truth, and the Life – the one Mediator between God and humanity, Jesus the Christ. He paid the price in His death and then rose from the dead, conquering the brokenness of creation and that brokenness' greatest symptom: death.
In our belief, we become personally connected (4) to His death, His burial, and His resurrection. We become children of God – new creations, with new significance and meaning (5). We are His craftsmanship, intended to personally interact (4) with Him and to do the good things for which He designed us. He gave us new life in which we can love Him and express that love to others (4). While one day we will see Him face to face and experience that loving relationship in a different way, He has left us here to know and love Him, to love others, to be active and engaged in benefitting others (4) with the truth and love with which He has entrusted us.
In the meantime, He hasn't left us alone, but has given us of His own Spirit to live within us and to commune with us (8). He has connected us to a community of other believers with whom we are designed to interact and engage life (4,7). As we live and serve together we grow in our relationship with Him and each other, and we learn through His word of His grand plans (2) for His creation – the promises He has made, and how He plans to fulfill them. We are stewards of the time He has given us, investing each moment wisely in Him and in others because of the significance He gives to even the most menial of tasks (5). Our days are filled with purpose, hope, and anticipation (5) as we complete our assigned adventure and look forward to what He has planned next. He teaches us, He guides us, He gives us Himself. "Taste and see that the Lord is good."
The message never changes, but the language of the audience does. Peter's apologetic mandate is an evangelistic one, and it demands us to get personal. We need to get personal with Christ, we need to get personal with the gospel, and we need to get personal with those who ask us to give an account of the hope within us. That hope is real, it is sure, and it is good. That hope is one of the many reasons we can say we have tasted and seen that the Lord is good. Are we ready to connect with this present generation and invite them to do the same?
---
Dr. Christopher Cone serves as President of Calvary University, and is the author or general editor of several books including: Integrating Exegesis and Exposition: Biblical Communication for Transformative Learning, Gifted: Understanding the Holy Spirit and Unwrapping Spiritual Gifts, and Dispensationalism Tomorrow and Beyond: A Theological Collection in Honor of Charles C. Ryrie. Dr. Cone previously served in executive and faculty roles at Southern California Seminary and Tyndale Theological Seminary and Biblical Institute, and in pastoral roles at Tyndale Bible Church and San Diego Fellowship of the Bible.
1751 reads
2580 reads