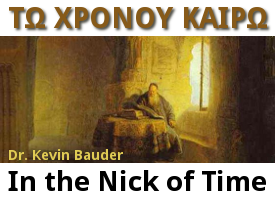 Christian primary and secondary education (sometimes called "Christian Day School") became popular among fundamentalists during the 1970s. While some have alleged that the Christian school movement was a response to racial integration,1 it was more likely a reaction against the increasingly vicious secularism of public education. For a generation, many Christian parents sent their children to Christian schools, even when the cost of tuition meant significant financial sacrifice.
Over the past decade, however, most Christian schools have begun to decline. Administrators speculate about the reasons, but at least a few seem pretty obvious. These are generalizations that will not hold in every instance. Certain tendencies, however, can be observed more often than not.
First, Christian schools have not typically produced a better academic product than public education. True, the average test scores from Christian school students are higher than those of public school students. That is partly because public schools are required to accept students (including special education students) whom Christian schools uniformly reject. Take the top ten percent of graduates from the typical Christian school, and compare them to the top ten percent of graduates from the typical public school, and you will likely find that the public school graduates are better prepared.
A second reason that Christian schools are in decline is because they do not generally produce a better quality of Christian. Granted, the environment of a Christian school does shield its students from the most brutal influences of the secular school environment, such as rampant drug use and open promiscuity. It also grants Christianity a normative status, so that a student's faith is not overtly and constantly under attack. Nevertheless, graduates of Christian schools do not seem to be noticeably more spiritually minded than Christian graduates of public schools. The real test is in what happens to Christian school students after they graduate. How many of them are walking with the Lord five years later? The proportions do not seem markedly higher for Christian school alumni than for other Christians of the same age.
A third reason that Christian schools are declining is the massive amount of resources that they consume. Hiring qualified teachers and maintaining excellent facilities takes money—lots of it. Both parents and churches have grown fatigued by the constant expense, but somebody has to bear the cost. Though exceptions do exist, few churches are actually able to operate a Christian school at a profit. Budgets are often balanced on the backs of teachers, who are pitifully underpaid. Consequently, hiring qualified faculty becomes exponentially more difficult, with the result that unqualified individuals are sometimes placed in the classroom. This in turn affects the performance of the school, and declining performance only exacerbates the problem.
In view of the foregoing, does the Christian school still have a place? If so, what is the contribution that it should be expected to make? A preliminary answer to these questions can be deduced from two observations about the nature of the Christian faith.
First, Christianity is a religion of text, and Christians are people of the Book. True Christianity derives its entire faith and practice from the written Word of God. No authority is higher than the Scriptures.
Second, Christianity affirms the priesthood and soul-liberty of the believer. Among other things, this means individual Christians are responsible to know and understand the Scriptures for themselves. Spiritual authorities may help believers to interpret and apply the Scriptures rightly, but they may not take over the duty of Christians to know and obey the Word of God.
These two considerations have powerfully shaped Christian ministry. They have led to massive dissemination of the Christian Scriptures. No other ancient document was as widely copied as the Bible. No other book has been as widely translated, printed, and distributed. Throughout Christian history, believers have given their lives to protect, translate, and publish the Scriptures. This work has been paramount because Christianity is a religion of text.
Since Christianity is a religion of text, it can thrive only where believers are skilled readers. In order to know and apply the Scriptures for themselves, Christians must be able to read and understand with precision. This is not so much a matter of any special unction as it is a matter of good preparation. The tools for understanding the Bible are not significantly different from the tools for understanding any serious literature.
Biblical Christianity survives only where people read skillfully. Necessarily, then, every Christian church has an interest in ensuring that its members are skilled readers. Unskilled adults, however, usually resist efforts to foster new intellectual skills. This leaves children and teens as the target constituency for fostering the proficiencies that are necessary in order to prepare skillful readers.
What are those skills? The ordinary reading and understanding of serious literature requires, at minimum, a mastery of the disciplines known as the Trivium. Grammar deals with the way that words are connected so as to constitute communicative units. Logic examines the relationship between ideas to determine whether one idea necessarily arises from or gives rise to others. Rhetoric structures communicative units so that the connections between them are readily followed and grasped. The Trivium ought to be the core of a Christian school curriculum.
The standard interpretive method used by Protestant readers of the Bible is called "grammatico-historical." The idea is that texts must be understood according to both their grammar and their historical location. Historical interpretation assumes and relies upon knowledge of history. To the Trivium, Christian schools must add history.
The Scriptures contain literature from a variety of forms and genres. Skilled readers must be comfortable dealing with diverse sorts of writing. This skill is gained only by broad exposure and wide reading. Literature has its place in the curriculum of the Christian schools.
For generations, Western Christians have relied upon public institutions to prepare their children. Over the past several decades, however, public education has de-emphasized literacy in favor of ideology. Unfortunately, Christian schools have spent much of their effort constructing and emphasizing an alternative ideology rather than fostering excellence in those skills without which Christianity cannot survive.
Does the Christian school have a future? The above observations imply that it does, if it takes seriously the work of preparing Christian readers. Most of a twelve-year curriculum could be derived from these considerations alone—and other considerations could be offered that would justify a fully liberal education in the arts and sciences.
Christian schools do have a future and they ought to be perpetuated. They have no reason for existence, however, if they merely offer "less of the same" thing that students can get in public institutions. Christian education ought to be different. The difference should not lie in making every course a stale tract for Christianity. The difference ought to lie in the gravity with which Christian educators take their task and in the thoughtfulness that they foster in their students.
Notes
1 For references see William J. Reese, "Soldiers of Christ in the Army of God: The Christian School Movement in America," in Leslie Francis and David W. Lankshear (eds), Christian Perspectives on Church Schools (Leominster, England: 1993), 274.
Hymn 1:1
Behold the Glories of the Lamb
Isaac Watts (1674 –1748)
A new song to the Lamb that was slain. Rev. v.6-12
Behold the glories of the Lamb
Amidst His Father's throne.
Prepare new honors for His Name,
And songs before unknown.
Let elders worship at His feet,
The Church adore around,
With vials full of odors sweet,
And harps of sweeter sound.
Those are the prayers of the saints,
And these the hymns they raise;
Jesus is kind to our complaints,
He loves to hear our praise.
Eternal Father, who shall look
Into Thy secret will?
Who but the Son should take that Book
And open every seal?
He shall fulfill Thy great decrees,
The Son deserves it well;
Lo, in His hand the sovereign keys
Of Heav'n, and death, and hell!
Now to the Lamb that once was slain
Be endless blessings paid;
Salvation, glory, joy remain
Forever on Thy head.
Thou hast redeemed our souls with blood,
Hast set the prisoner free;
Hast made us kings and priests to God,
And we shall reign with Thee.
The worlds of nature and of grace
Are put beneath Thy power;
Then shorten these delaying days,
And bring the promised hour.
[node:bio/kevin-t-bauder body]
28832 reads