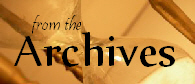 First appeared at SharperIron on June 3, 2005. Original post and discussion are available here
But as yet the state of the Christian world is such, that to expect to promote religion without excitements is unphilosophical and absurd. The great political and other worldly excitements that agitate Christendom, are all unfriendly to religion, and divert the mind from the interests of the soul. Now, these excitements can only be counteracted by religious excitements. And until there is sufficient religious principle in the world to put down irreligious excitements, it is in vain to try to promote religion, except by counteracting excitements. This is true in philosophy, and it is a historical fact.

- Charles Finney in Revivals of Religion
An hour west of Denver, Interstate 70 passes through the Eisenhower Tunnel. Rain that falls east of the tunnel will eventually flow to the Gulf of Mexico. Whatever falls to the west finds its way to the Pacific Ocean. The tunnel straddles the Continental Divide, a place where raindrops that fall only inches from one another may end up separated by thousands of miles.
American Christianity has its own continental divide: Charles Grandison Finney. Finney's thought and ministry (expressed in the Revivals of Religion, the Systematic Theology and the Memoirs) radically reshaped American Christianity. We fundamentalists work in Finney's shadow. His thought and practice have become so deeply ingrained in our movement as to be almost invisible to us. In order to know who we are, we must grasp what Finney was and how he differed from those who preceded him.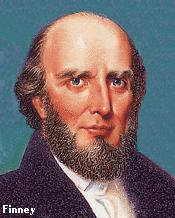 Finney's approach to Christianity began with an embarrassment over traditional theology, especially the theology of the Westminster Confession. He rejected the authority of that confession and of any kind of church tradition. Finney insisted that people who taught traditional Reformed theology were both thoughtless and inconsistent. He accused them of being unwilling to define their concepts, even to themselves.
Instead of the authority of tradition, Finney accepted the double authority of reason and consciousness. By reason, Finney meant something like plausibility; this kind of reason was his chief tool in understanding the Bible. He supplemented reason with consciousness or self-awareness, which (he argued) granted full and immediate access to one's own mental states. In Finney's system, no interpretation of Scripture was allowable which contradicted one's own self-awareness. That is why he rejected Jonathan Edwards's distinction between natural and moral freedom.
Finney's rejection of tradition carried him far beyond the simple rejection of a particular confession. Rightly considered, a tradition involves not so much a continuity of doctrine as a continuity of culture. This continuity of culture provides a context within which doctrines make sense. The proper authority of tradition consists more in providing context than in providing content. From the time of the apostles until the time of Edwards, one can trace a continuity of Christian culture in the West. With Finney, however, came the emphatic rejection of the historic culture of the church. In the truest sense of the term, Finney must be called a religious liberal.
This shift in culture grew out of a shift in theology. Finney began with the "reasonable" proposition that moral obligation always implies moral ability. Thus, the sinner was always morally capable of acting upon the truth. Finney concluded that the work of the minister must be to devote himself to argument and persuasion with sinners, as if he "expected to convert them himself." Finney then drew the corollary that the minister was morally obligated to use means toward the conversion of sinners.
The question of means was very important to Finney, who held that religious revival results from the appropriate use of means. To him, revival was the work of man, and it was the responsibility of the believer (especially of the minister) to use whatever means would prove effective in reviving religion.
Finney held that a revival presupposed a declension. On his view, godly people naturally tend to decline and fall asleep spiritually (in Finney's thought, this decline would actually result in the loss of salvation). While theoretically believers could experience gradual, steady spiritual growth, no one should expect such growth in the real world. Rather, God's people must be suddenly awakened by some spiritual crisis. This crisis and awakening Finney called revival.
Unlike Edwards, Finney held that people must not wait upon God for revival. Humans were quite capable of producing revivals by creating religious excitements. Most individuals were typically occupied with matters having little to do with the gospel. To create interest in the gospel, the preacher must first raise an excitement so as to get their attention. This initial excitement was a necessary condition of revival.
According to Finney, the preacher could not create this excitement without some novelty, some new measure. The key question for determining the propriety of any new measure was, Does it lead to success? Generally, whatever was being done in the world to stir up excitement (in a political campaign, for example, or by the advertisers) should be done more effectively by the church.
One could evaluate numerically the success of any measure used to promote a revival. Whatever produced the greatest number of visible conversions was the most successful measure. Indeed, the spiritual wisdom of any minister or ministry could be determined by the number of conversions produced. In Finney's thought, soul-winning became the touchstone of spiritual wisdom. The spiritual wisdom and integrity of a minister could be determined, mutatis mutandis, by the number of conversions that he produced.
Finney's system and methods became widely influential within most of American Christianity. Fundamentalism and other movements within evangelicalism have their roots mainly in those branches of American Christianity that were most influenced by Finney. Therefore, these versions of American Christianity would be well served to understand how their own movement has been shaped by the ideas of this influential man.
(Part 2 will post later this week)
11540 reads