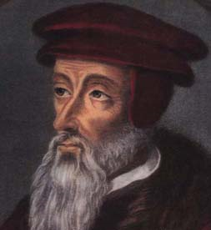 John Calvin, in his Institutes of the Christian Religion, famously set out what he saw as the three uses of the law. By the term "law," Calvin explains, "[b]y the Law, I understand not only the Ten Commandments, which contain a complete rule of life, but the whole system of religion delivered by the hand of Moses."1 Here, in this excerpt,2 Calvin explains the second of these:
The second office of the Law is, by means of its fearful denunciations and the consequent dread of punishment, to curb those who, unless forced, have no regard for rectitude and justice. Such persons are curbed, not because their mind is inwardly moved and affected, but because, as if a bridle were laid upon them, they refrain their hands from external acts, and internally check the depravity which would otherwise petulantly burst forth.

It is true, they are not on this account either better or more righteous in the sight of God. For although restrained by terror or shame, they dare not proceed to what their mind has conceived, nor give full license to their raging lust, their heart is by no means trained to fear and obedience. Nay, the more they restrain themselves, the more they are inflamed, the more they rage and boil, prepared for any act or outbreak whatsoever, were it not for the terror of the law. And not only so, but they thoroughly detest the law itself, and execrate the Lawgiver; so that if they could, they would most willingly annihilate him, because they cannot bear either his ordering what is right, or his avenging the despisers of his Majesty.

The feeling of all who are not yet regenerate, though in some more, in others less lively, is, that in regard to the observance of the law, they are not led by voluntary submission, but dragged by the force of fear. Nevertheless, this forced and extorted righteousness is necessary for the good of society, its peace being secured by a provision but for which all things would be thrown into tumult and confusion. Nay, this tuition is not without its use, even to the children of God, who, previous to their effectual calling, being destitute of the Spirit of holiness, freely indulge the lusts of the flesh.

When, by the fear of Divine vengeance, they are deterred from open outbreakings, though, from not being subdued in mind, they profit little at present, still they are in some measure trained to bear the yoke of righteousness, so that when they are called, they are not like mere novices, studying a discipline of which previously they had no knowledge.

This office seems to be especially in the view of the Apostle, when he says, "That the law is not made for a righteous man, but for the lawless and disobedient, for the ungodly and for sinners, for unholy and profane, for murderers of fathers and murderers of mothers, for manslayers, for whoremongers, for them that defile themselves with mankind, for men-stealers, for liars, for perjured persons, and if there be any other thing that is contrary to sound doctrine," (1 Tim. 1:9, 10.) He thus indicates that it is a restraint on unruly lusts that would otherwise burst all bonds.

To both may be applied the declaration of the Apostle in another place, that "The law was our schoolmaster to bring us unto Christ," (Gal. 3:24;) since there are two classes of persons, whom by its training it leads to Christ. Some, (of whom we spoke in the first place,) from excessive confidence in their own virtue or righteousness, are unfit to receive the grace of Christ, until they are completely humbled. This the law does by making them sensible of their misery, and so disposing them to long for what they previously imagined they did not want.

Others have need of a bridle to restrain them from giving full scope to their passions, and thereby utterly losing all desire after righteousness. For where the Spirit of God rules not, the lusts sometimes so burst forth, as to threaten to drown the soul subjected to them in forgetfulness and contempt of God; and so they would, did not God interpose with this remedy.

Those, therefore, whom he has destined to the inheritance of his kingdom, if he does not immediately regenerate, he, through the works of the law, preserves in fear, against the time of his visitation, not, indeed, that pure and chaste fear which his children ought to have, but a fear useful to the extent of instructing them in true piety according to their capacity.

 Of this we have so many proofs, that there is not the least need of an example. For all who have remained for some time in ignorance of God will confess, as the result of their own experience, that the law had the effect of keeping them in some degree in the fear and reverence of God, till, being regenerated by his Spirit, they began to love him from the heart.
1201 reads