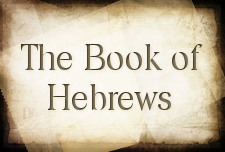 Read The series so far.
A pastor asked a good question in response to my suggestion that Jude was the author of Hebrews: "How does one go about determining authorship, when the majority of early, external material attributes authorship to Paul? Apart from the views of Origen, why is Paul not the favorable author?"
Earliest writers on the subject, Clement of Alexandria and Origen, wrote that the Greek in Hebrews was not Paul's. They could be wrong, but they wrote and spoke the language. In response to the good questions, I wrote to the pastor the following:
The strongest internal arguments against Pauline authorship, in my opinion, are:
(1) Paul's practice was to mention himself clearly as the author of his epistles, and write it with his own hand (2 Thess. 3:17), because there were many false "Pauline" epistles circulating. Such a practice is lacking in Hebrews.
(2) The Greek of Hebrews is just so different from the Greek of the Pauline books, both in vocabulary and in style. There are many examples, such as the much larger number of subordinate participles in Hebrews, but note what follows:
(3) Auctor (my name for the author of Hebrews) refers to the church leaders 3 times as the hegoumenoi (ηγουμενοι - Heb. 13:7, 17, 24), a title Paul never uses. Paul prefers "overseers" and "elders" and uses proisemenoi (προιστημενοι), episkepoi (επισκοποι), and presbuteroi (πρεσβυτεροι) in Acts 20:17, 28; 1 Thessalonians 5:12; 1 Timothy 3:2, 5; 1 Timothy 5:17. These last three words are never used this way in Hebrews (πρεσβυτεροι is used of the patriarchs, not church leaders in Heb. 11:2).
(4) Auctor builds one of his main arguments on the truth of the priesthood of Jesus, something Paul never mentions. Words with the root ιερ- ("priest") appear 20 times in Hebrews, but that root never appears with reference to Jesus in the Pauline epistles.
(5) Auctor cites the OT differently than Paul does. ''As it is written" (καθως γεγραπται) appears in Romans 11 times and never in Hebrews. "It says" or "he says" (ειρηκεν) appears in Hebrews 6 times and never in Paul.
I just can't see Paul mentioning these important matters or using these expressions in Hebrews and not doing so in his 13 other books!
(6) There is more. Both authors cite Habakkuk 2:4 but apply it in different ways. Paul uses the verse to illustrate justification by faith in Romans and Galatians, but Auctor to illustrate the justified life of faith (chapter 11).
(6) There are also some very distinctive Pauline words that are "missing" in Hebrews: "Gospel" (ευαγγελιον) appears in each of the Pauline epistles, but never in Hebrews (the verb ευαγγελιζω appears in Hebrews 4:2). "Mystery" (μυστηριον) appears 20 times in the Pauline epistles, but never in Hebrews.
(7) Finally, Auctor includes himself as part of the 2nd generation believers (Heb. 2:3) who were not eyewitnesses and hearers of the Lord Jesus, thus excluding Paul who received special revelation from Jesus.
That there are themes in Hebrews that are also in Paul is something that should be expected—they both were Christian believers! All NT writers shared a common faith and a body of truths. What concerns us here is the way in which authors expressed those common beliefs, and they expressed them in different terms and ways.
I think that the only internal argument in favor of Pauline authorship is that the author of Hebrews evidently traveled with Timothy at times (Heb. 13:23). But if Paul had a large number of different fellow itinerants, why couldn't Timothy also travel with more than one person? But even in Hebrews 13:23, Auctor refers to Timothy as "our brother" (ἀδελφὸν ἡμῶν), while Paul never referred to Timothy as "my brother" but only as "my child" (τέκνον - 1 Tim. 1:12, 18; 2 Tim. 1:2; 2;1).
The placement of Hebrews following Romans in p46 does not necessarily imply Pauline authorship but only that Rome was its destination (Heb. 13:24: "those from Italy"). See Letters to the Church by Karen Jobes.
This is not something to fight about. I only expend this much effort on the subject because there are some Christians (and some teachers who should know better) who argue for the Pauline authorship of Hebrews with such zeal that you might conclude that it is a doctrine of the Faith! I may be wrong but I have a really hard time believing that Paul wrote a letter that seems to me to be so non-Pauline.
[node:bio/will-varner body]
5617 reads