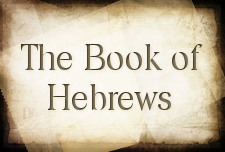 Read the series so far.
There is a second way in which Auctor (Latin nickname for the author of Hebrews) effectively but succinctly presents his message. Beginning in Hebrews 2:9, he mentions Jesus by his personal name in the first of ten times. But the way in which he does it is obscured by most of the English translations. He piles up the titles and activities of Jesus first and then concludes by mentioning his name. This rhetorical device (climax) builds anticipation on the part of the reader until the climax arrives: JESUS!
The NASB does express the word order correctly the first time this occurs. "But we see him who for a little while was made lower than the angels, namely Jesus" (Heb. 2:9). This translation accurately reflects the word order of the Greek sentence. The sentence builds to a climax and then that climax is announced: Jesus. In nine of the ten occurrences he mentions Jesus by that name alone, including our two exemplar texts (Heb. 3:1, 12:2). Listen to them this way. "Fix your thoughts on the Apostle and High Priest of our confession, JESUS" (Heb. 3:1). "Fix our eyes on the Author and Finisher of our faith, JESUS" (12:2). The parallel structure of the two commands becomes even more evident by his delaying the name of Jesus until the end, thus building anticipation until the rhetorical climax arrives: JESUS.
4041 reads