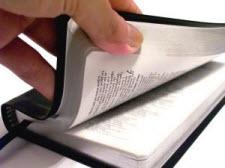 The interpretation of Romans 7 is long disputed. My wife once told me that as a Christian teen she read Romans 7:14ff in the Living Bible and thought, "That is me!" Was she wrong in her hermeneutics? Is Paul talking about his Christian or pre-Christian experience in this very auto-biographical chapter?
For we know that the law is spiritual, but I am of the flesh, sold under sin. 15 For I do not understand my own actions. For I do not do what I want, but I do the very thing I hate. 16 Now if I do what I do not want, I agree with the law, that it is good. 17 So now it is no longer I who do it, but sin that dwells within me. 18 For I know that nothing good dwells in me, that is, in my flesh. For I have the desire to do what is right, but not the ability to carry it out. 19 For I do not do the good I want, but the evil I do not want is what I keep on doing. (ESV, Rom. 7:14-19)
Here are some arguments for the pre-conversion and post-conversion positions. You will be able to tell where I stand.
Describing Paul's Pre-conversion Experience
Prevailing view among Greek Fathers.
Expressions such as "sold as a slave to sin" and "unspiritual" more fitting as a description of unsaved rather than genuine believers.
If the "now" of 8:1 means "now" in a temporal sense, Paul is passing from description of unsaved to the saved condition.
Absence of Holy Spirit from discussion hard to understand if a redeemed experience is under review.
Describing Paul's Experience as a Christian
The conclusion of Augustinian and Reformed interpreters.
Paul's change from past tense in Romans 7:1-13 to present tense in Romans 7:14-25 indicates a change from a pre- to a post- conversion description.
Description of pre-conversion life in Philippians 3:6 as a "blameless" condition regarding the law does not square with wretchedness described in this passage.
Progress of thought in Romans has passed beyond description of unsaved state (Rom. 1:18-3:20 and 3:21- 4:25) and he is now giving attention to sanctification, etc.
Conflict described here can and does characterize the Christian life apparent elsewhere in Paul (see Gal. 5:16, 17).
The power of self-diagnosis at such a penetrating level (Rom.7:22, 23) is beyond capability of an unbeliever.
Use of  ton eso anthrwpon according to which Paul delights in the law of God (Rom. 7:22) is used elsewhere only of a believer (2 Cor. 4:16, Eph. 3:16).
A person desiring such holiness of life could only be a believer, since in Romans an unbeliever does not long for God, but is hostile toward Him (see Rom.3:10 ff).
Last verse acknowledges deliverance in Christ, yet goes on to state that the very problem described in 14-24 as though it continues to be a problem for one who knows the Lord.
If the language of Romans 7:24 seems too strong for Paul to apply to himself as a believer, consider the language of 1 Tim. 1:15: "The saying is trustworthy and deserving of full acceptance, that Christ Jesus came into the world to save sinners, of whom I am the foremost." ( αμαρτωλους σῶσαι, ὧν πρῶτός εἰμι ἐγώ)
Leon Morris' comment:
I do not see how it can be denied that what Paul says refers to the regenerate.  But this is not the whole story: Romans 7 leads right into Romans 8. But it is part of the story and an important part. Paul is not talking about the whole of his Christian experience but what happens when the believer sins.  [Quotes Packer] "This passage reproduces Paul's present theological self-knowledge as a Christian: not all of it, but just that part of it which is germane to the subject at hand – namely, the function of the law in giving knowledge of sin." [emphasis added]
John Brown:
as he has proved from his own past experience that the law cannot make a bad man good, he now proves from his present experience that law cannot make a good man better. The law can tell us what we ought to be and do, but it cannot make us what it requires us to be.
---
Will Varner is Professor of Bible & Greek at The Master's College. He earned a BA from Bob Jones University, MA from Dropsie College, MDiv and ThM from Biblical Theological Seminary and EdD fromTemple University. He blogs at DrIBEX Ideas.
976 reads
1519 reads