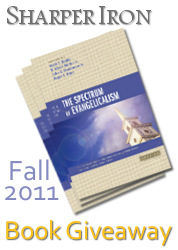 Thanks to all who participated in the our Fall 2011 Book Giveaway. The winners have been selected randomly from those entering the contest.
And the winners are:
David Horner
Daniel Viezbicke
Tim Miller
Their free copy of Four Views on the Spectrum of Evangelicalism from Zondervan will be shipped out this week.
Our thanks go out to Zondervan publishing for graciously sponsoring this giveaway.
493 reads