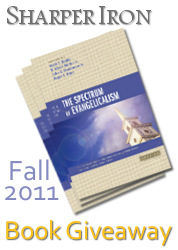 From time to time, SharperIron will be hosting book giveaways.  With the recent publication of Four Views on the Spectrum of Evangelicalism, which includes a chapter from Dr. Kevin Bauder—a frequent contributor at SharperIron—we thought we would giveaway three copies of this new title to our readers. 
The contest is open to all members of SharperIron.  If you read SharperIron but are not yet a member, you can join for free.
Just fill out the following form to enter the giveaway. Additional entries are available for publicizing this giveaway or answering a question about the book. See details on the form below. You may also want to check the book out at Zondervan.com.
The contest will run from now through the end of November.  Don't forget to enter below.
Contest now closed.
If the form above does not load, click here to enter the contest
Our thanks go out to Zondervan publishing for graciously sponsoring this giveaway.
2787 reads