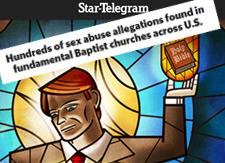 I learned of the Fort Worth Star-Telegram series on sexual misconduct among Independent Baptists when one of our men brought it to my attention. The series of articles claims to have uncovered hundreds of cases in nearly 200 different churches. Our church member was concerned because the Star-Telegram included a map with a database of churches charged with sexual misconduct, and our church was included on that map.
A few years ago, a young man in our church was arrested for possession of child pornography. As a matter of policy, our church cooperates with law enforcement in such cases. We did not conceal his crime. When the news media showed up at my door, I answered their questions. We spoke out very clearly against his sin: it has no place among God's people. We sought to protect our church and to ensure the safety of every child.
So, when I knew that this was the specific reason for our inclusion on the database, I assumed that by providing the facts in the case, we could clear up the matter. I immediately sent an email to the Star-Telegram reporter and gave her three reasons why we should not be included in her database:
There are no allegations of sexual misconduct against our church.
No allegation was ever made, found, or substantiated that the young man in question committed a crime against any child in our ministry, or that he committed his crime on our property, or in conjunction with any of our ministries. In fact, a year prior to his arrest we had removed him from participation in church ministries of any kind because of his struggle with legal
The leadership of our church was not in any way involved in this crime. There was no cover-up. We reported his crime to the authorities and insisted that he fully cooperate with law enforcement. We informed the parents in our church and extended ministries of the steps we were taking to seek justice and to protect families. This has been our practice in dealing with crimes involving children, and we did not deviate from that practice.
In short, while this young man committed a terrible crime that did eventually land our church in the news, we believe that we handled the matter both ethically and Scripturally. To claim that there are allegations of sexual misconduct against our church is simply untrue. There is no sexual misconduct involving our church ministries.
Steve Coffman, editor of the Star-Telegram, replied that while they appreciated that I brought "this additional information and context to our attention" they would not be removing us from the database because
There are a number of other cases included in the map in which someone's crimes did not occur at church or involve a church member but had an impact on the congregation, as I'm sure (this young man's) case did with your congregation.
In other words, since his actions impacted our congregation, our church therefore is part of a broader problem of sexual misconduct. Frankly, this is bogus. The Star-Telegram claims to have "uncovered" over 400 cases of sexual misconduct on the part of Independent Baptist Churches. By including our church in that number, they imply that our church leadership was somehow implicit in the crime or had a part in covering it up. That is seriously misleading. According to the article "How the Star-Telegram Investigated Sex Abuse in Fundamental Baptist Churches,"
The Star-Telegram counted 187 independent fundamental Baptist churches and affiliated institutions that had been affected by sexual abuse allegations. The Star-Telegram included in its count churches where alleged abusers had served before or after alleged abuse occurred because the allegations could affect the congregants.
I find this duplicitous. Apparently, they intend for the term "affected" to be understood in the broadest possible sense. In our case, the "impact on the congregation" came as a result of the media frenzy that erupted when someone familiar with our church falsely claimed that this young man worked with children in our church. It is, of course, disconcerting to have a news crew parked outside your pastor's house demanding an interview. But the people of our church were not in any way ashamed of our handling of the case, mainly because we handled it. Were they "affected?" Well, yes, but not in the sense that the Star-Telegram wants us to think.
And this is my objection to the series. The Star-Telegram claims to have created a database of churches accused of sexual misconduct – which would lead one to think that the church leadership was somehow involved. Clearly, they include many cases of actual sexual misconduct on the part of church leadership. But they also include cases like ours that involve neither church leadership or any sort of impropriety on the part of the church itself.
To make their case, the Star-Telegram relies heavily on decades old cases involving the usual suspects. One is left to wonder whether this series is in fact motivated by a desire to profit from the popularity of the #MeToo movement, perhaps for the sake of self-preservation. Print media, after all, has fallen on hard times, and apparently the Star-Telegram has not escaped this downturn. I would imagine that in Texas, where Baptists are as thick as thieves, any scandal involving Baptists is bound to gain some attention.
That being said, I would like to make a few comments on the subject of "sexual misconduct" as presented in the Star-Telegram series.
First, I think a healthy perspective is in order. I was surprised that out of the thousands of Independent Baptist Churches across America, the Star-Telegram could only identify 187 who were involved in sexual misconduct. I would have guessed more. Perhaps there are. When I saw the broad parameters they set for themselves, and saw that they went back nearly forty years to highlight the Dave Hyles scandals, I was even more surprised by the low number. Please don't misunderstand me on this point. Every single case – and the Star-Telegram identified more than 400 – represents lives that have been damaged by the sins of those who are supposed to be shepherds. But I think that number is small, especially for a story that went back thirty or forty years.
Second, and more to the point of this article, Independent Baptists have had problems with the way we handle sexual improprieties. Lest I seem too cavalier, our problems go beyond the way we handle crimes against children. We have a history of concealing infidelity and giving it a pass when found in our pastors. I saw this firsthand as a teenager and young adult. My pastor had multiple affairs, including with some underaged girls. Yet, when he applied for various pulpits, he received recommendations from well-known Independent Baptist pastors. At least twice, I have been contacted by pulpit committees who learned that I had information they needed to know. By the way, I praise the Lord that these men gave me a hearing and decided against calling him. But one pastor did eventually call that same philandering pastor to be his assistant. When I contacted the pastor to warn him about this man, I was ignored. Though I made multiple attempts to make him aware of this man's criminal past, every attempt fell on deaf ears. Not until I wrote a blog post about it and then invited the pastor to google his church's name did he hear me. And his response was one of anger and vitriol rather than concern. When I put him in contact with the victims, he berated them, harassed them, and tried to get them to recant their story. When he finally let my former pastor go, he made it clear that he didn't believe our story.
As I told the editor of the Star-Telegram, when it comes to this issue, I am on their side absolutely. My objection is that they painted with a brush too broad. But as to the issue, yes, there has been a serious failure to defend our churches against predator pastors. I find it unbelievable that a man who degrades his office this way would get a pass, would be permitted to retain his position as pastor, or would be recommended to another church. What a disgrace!
Thirdly, I think much of the "division" among Independent Baptists stems from the way some churches handle sexual improprieties. Whether we like to admit it or not, a large part of the "hyper-separatism" among Independent Baptists has stemmed from the fact that some of the biggest names among Independent Baptists have routinely turned a blind eye to the moral failures of other pastors or demanded this for their own indiscretions. To be sure, the public reason given for these divisions have been "theological" (sometimes loosely defined). But just as often, these public theological disputes were a diversion from the real issue, like flack designed to distract the heat-seeking missile. Pastors have set other pastors back on their heels in order to avoid exposure from sexual indiscretions. Jack Hyles would be the most prominent example.
The truth is, Independent Baptists have developed a pattern of thinking that opens the door for sexual misconduct. We can trace this pattern of thought ultimately to our view of the Holy Spirit's ministry in the world today. Our view of the Holy Spirit as a sort of genie-in-the-bottle who gives me what I want has led to what has been dubbed "soft continuationism." It shows up especially in a weird and unscriptural view of The Call as irrevocable. Jack Hyles once said that if he saw Lester Roloff mouth-kissing a woman not his wife, he would believe that Roloff was doing CPR. Well then! So how did we get here?
Scriptural qualifications encumber this Irrevocable Call. Qualifications schmalifications. Magnify this view tenfold, even one hundred-fold, if the man with The Call manages to see his church grow significantly. If God is blessing, we cannot allow a little ole thing like a moral failure to get in the way.
And of course, if church growth is the goal, then church discipline is the enemy, it not being practical and all. Which means that the church will be turning a blind eye to things like sexual impropriety. Given such a church where pastoral qualifications are discarded and church discipline neglected, the Bible will not be preached and bingo! We have removed all the barriers to sexual misconduct. Should we be surprised when it shows up right on time for church, dressed appropriately in the standard suit and tie?
Is that too simplistic? Perhaps, but not really. I neglected to speak of the many pastors who are unconverted, having "prayed the prayer" but never repented and thus never experienced true conversion. And then, there is that nasty little thing about repentance, which pastors in possession of The Call apparently never have need of. Having grown up thirty years ago in the Jack Hyles wing of Fundamentalism, this description is probably closer to reality than what you might think, especially among those churches that are the children and step-children of his ministry. Somehow, Jack Schaap thought his affair with a teenaged girl was a spiritual thing. Virtue was departing from him. Long live Diana of the Ephesians!
Fourthly, (and shifting gears here), we really must consider the broader problem of sexual misconduct in our society. I believe we can safely assume that every major organization, institution, or affiliation that deals with children either has had or is having problems. We should not be surprised, for instance, if the LDS church is eventually exposed for covering up sexual misconduct among the bishops and elders. Living in Utah, I have heard plenty of stories. I would be surprised if a few scandals haven't been glossed over in the Boys and Girls Clubs. And I doubt that the YMCA is all that clean either. In other words, I think there is an agenda behind the exclusive exposure of Christian organizations.
Let us not forget that we are fallen, and that the fall damaged our entire self. When you combine man's sinful nature with our sex-obsessed culture, this is what you get. I don't mean to be cavalier about it of course. To the contrary, we must take this seriously. Our church has attempted to recognize this fact by establishing strict protocols for our ministries. I do not mean to say that our standards are somehow fool-proof. We recognize that this could happen to us and happen very easily, which is why we have regular training and a multi-layered system of accountability. Our governing principle must be that we are a gathering of sinners. And topping that list of sinners, the pastor must recognize himself to be the chiefest.
Fifthly, I marvel that the institution with the most influence over today's youth, our public-school system, has thus far remained relatively untouched by scandal. Aside from a handful of scattered news stories, the media has turned a blind eye to abuse that is all-too-frequent in our public schools (perhaps as high as 1 in 10 students will experience sexual abuse in the public schools). A few years ago, I sat in on an Education Committee hearing in the Utah House of Representatives. In that hearing, a handful of victims detailed stories of abuse at the hands of Math teachers, Choir directors, PE teachers, and other faculty members. These victims were upstanding citizens, prominent members of our community. As they described the abuse they suffered and the way the school districts (through UPPAC) shuffled the offenders around to other districts and concealed the cases in their files, I found myself looking around to see if there were any Catholic priests in the room. So far as I could tell, no Catholic priests were involved in the perpetration of these crimes. Nor were any of these teachers Independent Baptists, so far as I know.
You really need to listen to that testimony from the Utah State Legislature website here.
Of course, this begs the question: when will some ambitious reporter with her eye on a Pulitzer Prize take up this cause and do a thorough investigation of the public-school system at large? Then maybe we can know that all the scandal-mongering is really about the kids, and not just an anti-God agenda.
---
Dave Mallinak became the pastor of Berean Baptist Church of Ogden, Utah, in 2001, following the tragic death of their pastor. He has blogged extensively about the subject of abuse among Independent Baptists, especially in the broader circles of Jack Hyles and his disciples. A sampling of articles from more than a decade ago can be accessed here, here, and here.
195 reads
5115 reads