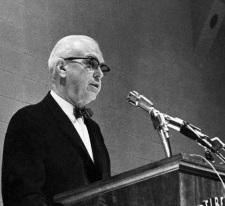 Read the series.
Reasons for the Conflict
This doctrine of separation is a crucial one, and it is a Biblical one. If it is neglected both in its preaching and in its implementation, I know of no way that we can preserve the purity and the power of our churches. As surely as we fail to implement it, we join hands with those that are contrary to the will of God and to His Word. The unity is destroyed, and the purity is destroyed, and without them the power of the Spirit of God is forfeited. He can move in fullness and power only when there is purity and a surrender to His will.
This doctrine of separation is a battlefield today, and it is that because of several reasons. I point out three primary reasons for the conflict and confusion.
The Problem of Extremism
First, I am convinced that there are many people who are fighting over Biblical separation from the world on one hand and apostasy on the other, because of the extremism on the part of some people that are connected with it. And when I say that, I am talking about both sides of the controversy. I deny and repudiate the charge that extremism marks and characterizes our separatist movement. I candidly admit that some, and probably all of us, have from time to time gone to excess in areas where we ought not, but I am just as positive that those that oppose the great Biblical doctrine of separation have gone to extremes in major ways. There are extremes in two basic areas.
1358 reads