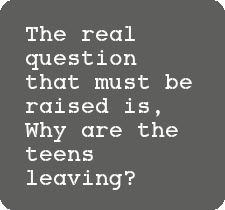 From VOICE, May/Jun 2015. Used with permission.
In the past two decades a spotlight has been placed on the problem of teens growing up and leaving the Church—not just going off to college or relocating, but permanently choosing not to have any part, role, or attendance in the ministry of a local church.
In several different parts of our country I have had conversations with pastors, youth pastors and laymen and this question has been asked or simply posed as a sad statement of fact. "I just don't know where all our teens are going" said one Senior Pastor. "I'm not sure why our teens are quitting on the Church," a layman in one of our Midwestern churches said to me. Many people are wondering where teens are going when they graduate. But the real question that must be raised is, Why are the teens leaving? We may not need to know where they are going as much as we need to know why they are leaving so we can strategize how to change the trend.
3888 reads