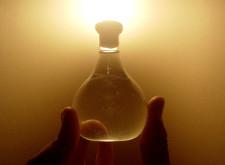 (Read the series.)
Bitterness is a cup we all have to drink sometimes, though some taste it far more often than others and some mixes are far more noxious than others. The bitterest afflictions are those that are continuous—an irreversible decision with seemingly unending consequences, an irreparable but inescapable relationship, the loss of someone so close to us we can't figure out who we are without them, a gradual ebbing of health and with it both the grief of lost vitality and the resentment of feeling that it happened too soon and wasn't fair.
In these cases and many more, bouts of bitterness are unavoidable. But with each perfectly normal attack of spiritual and emotional heartburn comes a temptation to indulge and harm ourselves.
I wish I could title this post "I Beat Bitterness and You Can Too," but my battle with bitterness is ongoing—almost daily. The struggle has led to study, though, and the truths of Scripture have often proved to be powerful medicine. I need to review them, and the exercise may also help you or someone you know.
14841 reads