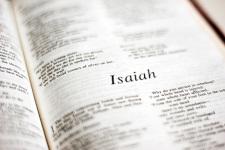 This post continues a series of extracts from a draft chapter in the book The Words of the Covenant: A Biblical Theology, Vol. 1 (forthcoming, d.v.). Read the series.
God and Israel: A Special Bond
Isaiah 54 is a reminder to Israel that she bears a special relationship to Yahweh, who is both her Redeemer and Husband (Isa. 54:5). This role of husband has been seen already in Hosea (2:16) and will be repeated in Jeremiah (Jer. 3:14, 31:32).
It is no coincidence that what might properly be labelled "New covenant blessings" follow the atoning work of the Suffering Servant. The overtures of God to Israel ought to be taken for what they plainly are: a promise of a perpetual bond guaranteed by the covenant faithfulness of God. Like all the prophets, Isaiah is not backward in showing Israel her sin. But again, like the other prophets, he is a prophet of hope: "But My kindness shall not depart from you, nor shall My covenant of peace be removed" (Isa. 54:10).1 The "covenant of peace"—which is an expression that is appended to the redeemed priesthood in Numbers 25:12 and Ezekiel 37:26, or to restored Israel depicted as a haven in Ezekiel 34:25—is in Isaiah 54:10 a reference to God's people as restored and protected (Isa. 54:17). But each use of the phrase is prophetic and concerns the things to come when the New covenant is enacted.
2194 reads