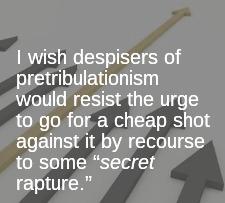 (Read the entire series.)
This is the final part of this exploratory series on the rapture of the Church. Its main purpose has been to show that none of the competing positions on the "taking out" of the saints merits more than an "inference to the best explanation." Within the Rules of Affinity this would be a C3. I have looked at posttribulationism and midtribulationism in the last post; here I shall look at the prewrath and pretribulational views.
PreWrath
This view is of very recent vintage, but for all that, it has articulated its position well and has won many advocates. In my opinion this position mounts some serious challenges for the other approaches. It deserves to be taken seriously.
10293 reads