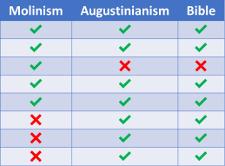 Reposted from Analogical Thoughts, with permission. Read the series.
In this highly irregular series of posts, I've been considering the question, How well is Molinism supported by the Bible? As I explained in the first installment:
Molinism is a theory that purports to reconcile a robust doctrine of divine providence and foreknowledge with a libertarian view of free will by appealing to the notion of divine middle knowledge: God's eternal knowledge of the so-called counterfactuals of creaturely freedom, that is, contingent truths about what possible creatures would freely choose if they were created by God and placed in particular circumstances.
2862 reads