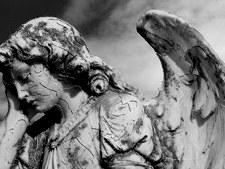 Read the series so far.
A Christian Answer to the Problem of Evil & Suffering
The Christian answer to the problem of evil and suffering begins with God himself. When we have a proper view of God, the apparent problems begin to melt away.
God's Nature
First, God is the standard for his actions—whatever he does defines concepts of justice, goodness, love, and mercy. Too many times the supposed problem of the justice of God begins when we mistakenly believe that there is some standard of justice that stands above God and to which God's actions must conform. Such a view reflects the philosophy of the ancient Greek philosopher, Plato. In reality, however, God is ultimate and his character sets the standard for what justice is. We can't do all that God does, because of our limited knowledge and creatureliness, but God can do as he pleases and whatever he does is just.
Second, some people believe that God needs to justify certain actions recorded in Scripture. However, Scripture makes it clear that God does not need to defend his actions to us. He does not defend himself for giving Adam a wife who led him into sin (Gen. 3:12), or when he tells Abraham to sacrifice Isaac (Gen. 22), or when Job wants answers for his apparent unjust suffering (Job 23:1-7; 31:35ff; 40:4-42:6). God is the sovereign Almighty Lord who does what he pleases (Psalm 115:3; 135:6; Eccl. 8:3) and owes no one an explanation (Rom. 9:19-21).
2531 reads