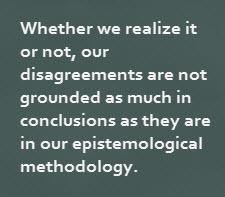 (The series so far.)
Four Pillars
Some years ago I published a paper, entitled "Presuppositional Dispensationalism,"1 in which I attempted to summarize the biblical epistemological model with the illustration of four pillars.
Pillar #1 is the existence of the biblical God. As the first principal, the God of the Bible exists, and not merely as one god among many, but as the One who has disclosed Himself in such a way that His exclusivity is unavoidable. Further, He is characterized above all else by holiness (Isa. 6:3, Rev 4:8), and all that He does is to be understood through that lens. The recognition of this first principle does not advocate faith as the sole or final source of understanding truth;2 rather it is an invitation to step into the biblical perspective, to "taste and see that the Lord is good" (Psa. 34:8).
Pillar #2 is the principle that God has divinely and authoritatively disclosed Himself for the purpose of His own glorification, through general revelation (creation, Rom. 1:18-20), special revelation (the Bible, 2 Tim 3:16-17), and personal revelation (Jesus Christ, John 1:1-18).
3841 reads