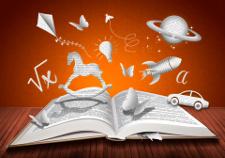 Continues 3 Biblical Models for Grounding Education. Read the series so far.
3. Elihu's Is/Ought Model
The final of the three Biblical models for our consideration here is what I call Elihu's Is/Ought Model. David Hume once critiqued divine command moral systems on grounds that they didn't earn the right to move from is (descriptions of reality) to ought (prescriptions for what we should do about reality). Hume's critique is not entirely unfair, and quite a few moral systems crack under the weight of the Humean accusation.
However, Elihu models a different approach, and one that transparently asserts an earned prescription for human ethics and understanding. We discover the wisdom of Elihu in Job 32-37, just before God's case-closing response to Job. It is worth noting that Elihu's and God's arguments are so similar as to be indiscernible, if we weren't told who was presenting the arguments in each case. As it turns out, there is further evidence for Elihu's positive influence, even beyond his agreement with God's own assertions. The only main character not rebuked in the book of Job is Elihu. Each of Job's other friends stand guilty before God (though He would forgive them), and even Job himself is rebuked, though also ultimately forgiven. Eliphaz, Bildad, and Zophar were guilty of speaking wrongly of Job. Job was guilty of ignorance, but not for long, and Elihu helped with that.
929 reads