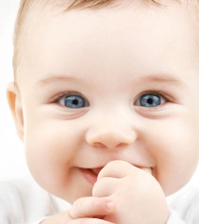 Read the rest of the series.
In the first two installments, we discussed some presuppositions that the pro-abortion and pro-life perspectives bring to this issue, and we saw what the activists in our secular culture are saying about abortion. We especially noted their attempts to normalize abortion to their target audience. Now, in this last installment, we consider what the Bible says about unborn children.
The Bible isn't a medical textbook, and none of these passages are specifically about abortion, but they each speak to the sanctity of unborn children's lives. As we discuss these passages, consider:
what status do these unborn children have?
does God consider them to be persons?
what does the evidence show us He thinks about unborn children?
Luke 1:39-45
In those days Mary arose and went with haste into the hill country, to a town in Judah, and she entered the house of Zechariah and greeted Elizabeth. And when Elizabeth heard the greeting of Mary, the baby leaped in her womb.
1734 reads