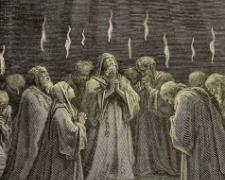 Reposted from It Is Written. Read the series.
We have argued that Scripture-quality revelation has ceased with the completion of the New Testament canon.1 Moreover, we've attempted to demonstrate that New Testament prophecy and tongues are forms of Scripture-quality special revelation.2 Consequently, Christians should not expect the revelatory gifts of tongues and prophecy today. This is the essence of the cessationist argument. Before we conclude our study, however, I'd like to respond to four objections that are commonly raised against the cessationist position (see below). Then will examine two or three passages to which those who advocate for the continuation of revelatory gifts frequently appeal. 
Objection #1: The Bible Doesn't Forbid Prophecy
The Bible commands the church neither to despise the prophetic utterance nor to forbid speaking in tongues, which is a form of prophecy (1 Thess. 5:20; 1 Cor. 14:39). Does not the abiding validity of these commands assume that tongues and prophecy will be an ongoing practice in the church?
2768 reads