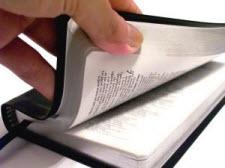 The interpretation of Romans 7 is long disputed. My wife once told me that as a Christian teen she read Romans 7:14ff in the Living Bible and thought, "That is me!" Was she wrong in her hermeneutics? Is Paul talking about his Christian or pre-Christian experience in this very auto-biographical chapter?
For we know that the law is spiritual, but I am of the flesh, sold under sin. 15 For I do not understand my own actions. For I do not do what I want, but I do the very thing I hate. 16 Now if I do what I do not want, I agree with the law, that it is good. 17 So now it is no longer I who do it, but sin that dwells within me. 18 For I know that nothing good dwells in me, that is, in my flesh. For I have the desire to do what is right, but not the ability to carry it out. 19 For I do not do the good I want, but the evil I do not want is what I keep on doing. (ESV, Rom. 7:14-19)
Here are some arguments for the pre-conversion and post-conversion positions. You will be able to tell where I stand.
1506 reads