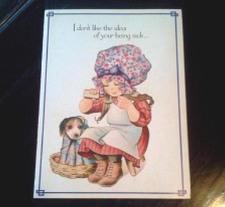 When I first saw it, it was all jumbled up with grocery ads and direct mail fliers that urged me to consider the metaphysical significance of my current gutter system. But this piece of mail, this greeting-sized envelope postmarked from Long Island, NY, was less noisy, unassuming somehow. I recognized the handwriting as belonging to my husband's grandmother—a carefully-formed script that she'd learned through hours of instruction in elementary school, back before the ubiquitous keyboards and touch screens that now dominate our lives.
The card, I assumed, would be a late birthday card with the requisite birthday check. I'd heard from my mother-in-law how sorry her own mother was about the delay and how they had had so many things happening and to look for it soon. But when I opened it, it wasn't what I expected. The envelope did include a check, but instead of a birthday card, it was a "Get Well Soon" card. Inside the same script had written:
Hope this card is inappropriate and that your recovery is complete!! Oh, and by the way—Happy Birthday!!
Still, it was fitting. I had been sick a couple weeks earlier and so perhaps a belated "Get Well Soon" was as relevant as a belated "Happy Birthday."
2426 reads