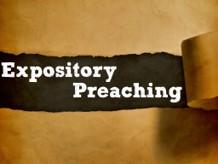 Republished from randywhiteministries.org by permission.
Once upon a time, churches met on Sunday mornings for "preaching services." In these services, preachers preached the Word of God, often verse-by-verse. They were chiefly teachers of the Word, and the faithful attenders were the eager students. They carried their Bible, took notes, and (over time) became experts of the Scriptures.
Then, a thing called the Church Growth Movement changed all that.
The Sunday morning service changed from the "Preaching Service" to the "Worship Service," which eventually changed to the "Worship Gathering," and further changed to simply, "Praise and Worship." The service became mostly filled with music, drama, and moments of introspection. The preacher became the "Lead Pastor" and the "preaching" gave way to a "speech" and, then, just a "talk or conversation." The talk was about felt needs and everyday issues. It was filled with humor, emotionalism, and "go get 'em tiger" conclusions. All this was done because the church thought it needed to soften its tone, lighten up, be authentic (whatever that means), and speak to the heart. Otherwise, the lost would never come to know Jesus.
2304 reads