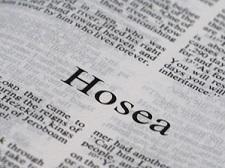 God's Relentless Love
Early in my ministry I conducted a marriage vow renewal ceremony for nine elderly couples. Several of the couples were married more than sixty years. Some of the couples couldn't hold hands any more. One of the couples, the man couldn't say "I do," but everyone in that room said it for him. In one case, the husband had had a stroke, and the wife was still very mobile and attractive, but she did not forsake him. What a joy to see that! It's rare in our country.
Marriage is a picture of God's love for His church. Christ will never leave His bride. God's love is relentless. That's what we are going to find out in the book of Hosea.
2395 reads