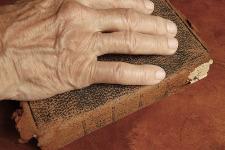 My wife Faith teaches a college class at Faith Baptist Bible College called Ministering to the Aging. She invited me to speak in her class. It was the first time I wrote down my thoughts on senior adult ministries in the church. Below are my notes. I added some ideas as I spoke that are not included here. I hope this perspective may be helpful.
I had the opportunity to pastor two churches that had specialized ministries to senior adults. One was developing and the other well-established with a full-time pastor overseeing it. As the lead pastor I did not directly oversee this ministry, but definitely had a heart for these people's spiritual growth. As I look back over the years of ministering to these dear people, I am grateful for their vital role in the church and their personal impact on me. They are some of the most faithful, prayerful, generous, and supportive people I have known.
Ephesians 4:11-12 says that pastors equip the saints for the work of the ministry unto the edifying of the body of Christ. Senior adults are included in the saints that pastors equip, and they are capable of effectively doing work that builds up the body of Christ. These objectives provide guidance for thinking about effective senior adult ministries in the local church.
2239 reads