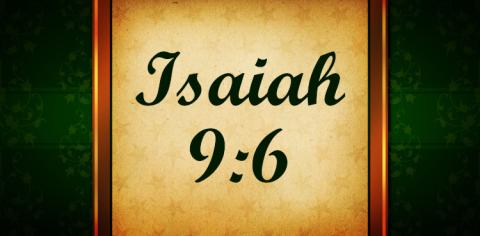 Reprinted with permission from As I See It, which is available free by writing to the editor at dkutilek@juno.com.
Of Old Testament prophecies of the birth of the Messiah, among the most famous and well-known (in part because Handel included its words in his magnum opus, "The Messiah") is Isaiah 9:6, 7 (numbered 9:5, 6 in the Masoretic Hebrew text, the Septuagint Greek version and in German and some other translations). The KJV's translation of vv. 6, 7 reads:
For unto us a child is born, unto us a son is given. And the government shall be upon his shoulder, and his name shall be called, Wonderful, Counselor, the mighty God, the everlasting Father, the Prince of peace.

Of the increase of his government and peace there shall be no end, upon the throne of David & upon his kingdom, to order it and to establish it with judgment and with justice, from henceforth and forever; the zeal of the LORD of hosts will perform this.
Isaiah chapters 7 through 12 are all a connected unit presenting a progressive series of Messianic prophecies. Franz Delitzsch in his famous 19th century commentary on Isaiah wrote:
15919 reads