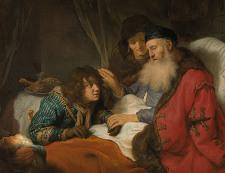 Read the series so far.
Abraham, Isaac, & Jacob (Parts 2 & 3)
The sequel has Isaac making a pact with Abimelech after which the God of Providence gave him water. Since there had been quarreling over water sources the conflict was resolved by covenant (cf. Heb. 6:16), Isaac named the new place "Beersheba," meaning "well of the oath." God's blessing came in conjunction with an oath which was clearly understood by both sides. The chapter ends by noticing Esau's marriage to two pagan wives and the grief it caused to his parents. Notwithstanding, when it came time for the aged patriarch to pass on the mantle, his intention was to give it to Esau (27:1-4). It was only the subtlety of his brother, with the collusion of his mother, that prevented Isaac's wishes from becoming a reality (27:11f.).
4861 reads