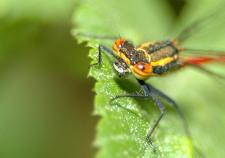 The Spirit & Plurality in the Godhead
What is clear from the second verse of the Bible is that the Spirit of God was superintending the process of creation. The word for "was hovering" or "brooded" (merakhepet, 1:2) implies a determination to act. It strains credulity to think that the Spirit brooded over a glob of matter for billions of years before deciding to do something with it. There is no logic to starting the work of creation by bringing forth matter and then leaving it all in idle suspension. The making of the unformed earth was with the intention of forming it!
As we are but two verses into the Genesis account it would be premature to think that the "Spirit (ruah) of God" can be distinguished from "God" in the first verse. But already the verb "brooded" discloses personality. The "S" should therefore be capitalized. This is no inanimate breath. The same Holy Spirit who would come in to a person and regenerate them, making them "new creatures in Christ" (2 Cor. 5:17), is the power behind the formation of the Cosmos.
1564 reads