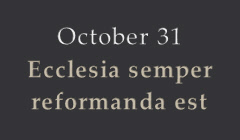 Why should we celebrate October 31?
For hundreds of years, people of the western world have attributed spiritual significance to the last day of October and the first day of November.
But "doctrines of demons" (1 Tim. 4:1, NKJV) governed the celebration of these days during the Dark Ages, until God brought light out of this darkness through the pen and voice of a humble monk and priest—Martin Luther.
Historians date the beginning of the Protestant Reformation at the day that Luther nailed his 95 theses to the door of the Castle Church in Wittenberg, Germany—Oct. 31, 1517.
With the pounding of Luther's hammer, the significance of All Hallows' Eve was forever changed. A day dedicated to spirits, myths, superstition and fear now reminds Bible-believing Christians of faith alone, grace alone, Scripture alone, Christ alone and the glory of God.
With some similarities, many date the beginning of the modern creation-science reformation to 1961 and the publication of our 518-page volume, The Genesis Flood: The Biblical Record and Its Scientific Implications (Phillipsburg, NJ: P&R Publishing) which I, a theologian, coauthored with Dr. Henry M. Morris, a hydraulic engineer. I thank our Lord for allowing me to have a part in this project!
1919 reads