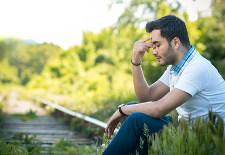 Pastors experience discouragement. It goes with the territory. Paul wrote his protégé, Timothy, to encourage him at a time when he was down. Paul's letter is what we call 2 Timothy.
How do we know Timothy was discouraged? Here are some clues. Paul said in 2 Timothy 1:4 that he was aware of Timothy's tears. He addressed in 2 Timothy 1:7 the fear Timothy was experiencing. In 1:8ff, Paul challenged Timothy to not let suffering for Christ get him down. In 1:13 he tells Timothy to "hold fast," in 2:1 to "be strong," in 2:3 to "endure hardship," in 3:14 to "continue," and in 4:5 to "fulfill your ministry." I infer from all this that Timothy was hurting and discouraged. Timothy seems to be a reluctant leader, one who is somewhat timid, subjective, and sensitive to opposition. Paul wanted to encourage him.
I need this kind of encouragement at times, and I'm sure other pastors do too. I read through 2 Timothy several times recently and made a list of "things to do" for a discouraged pastor. I'll share several of them today and more in future posts.
1629 reads