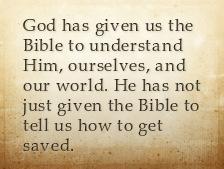 Some of you know that I am a reluctant dispensationalist. In writing this (actually re-writing it) I thought it appropriate to use my moniker ("Dr. Reluctant") as a title.
Dispensationalists have not always done themselves many favors. They have sometimes squandered the opportunity to make profound long term contributions to the Church through the publishing of detailed commentaries, biblical and systematic theologies and the like, for the sake of short term pragmatic and populist goals. Bestsellers seldom influence the direction of biblical teaching for long, if at all. And although the sin of academic obfuscation should be avoided and the merit of conciseness recognized, the Truth is properly respected when its deeps are probed and its channels explored.
For this reason, Dispensationalists are not, nor should not be, fixated on the defense of a system. Any approach to theology must be concerned with only one thing—its adequacy as an explanation of the whole Bible. We may be persuaded that we have gotten certain things right. That is a good thing. But the last word will not be said in this life. We must take seriously the obligation to explore and expound the Scriptures as we try to improve on what we know (and what we think we know). The explanatory power of Dispensationalism has often been concealed behind the well-meaning but rather myopic views of its defenders. Not that it doesn't sorely need some trained defenders, but much more it needs knowledgeable and courageous exponents.
3018 reads