Ascension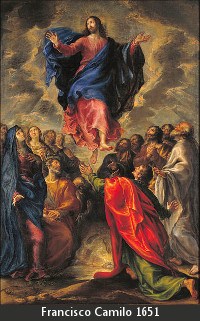 It's been over 20 years since our church put on a "Living Scenes of Easter" play.
One challenge back then was to dramatically present the ascension scene. Rather than provide fodder for America's Funniest Videos, we decided to handle things simply: we would create smoke using dry ice to simulate Jesus ascending into the clouds. It worked well.
Most of us are aware that forty days after his resurrection, Yeshua ascended into heaven. We would do well to reflect upon this ascension. The fullest ascension account is found in Acts 1:9-11.
And when he had said these things, as they were looking on, he was lifted up, and a cloud took him out of their sight. And while they were gazing into heaven as he went, behold, two men stood by them in white robes, and said, "Men of Galilee, why do you stand looking into heaven? This Jesus, who was taken up from you into heaven, will come in the same way as you saw him go into heaven. (ESV)
Final "goodbyes" are the most difficult, like bidding adieu to a dying parent or sibling. Those last few moments can be tough to process. The early believers had to experience that sort of grief—twice!
The Apostles and early believers had experienced the traumatic devastation of the crucifixion followed by the ecstatic exuberance of the resurrection. It had been an amazingly bipolar experience. After the high of the resurrection, the disciples now had to brace themselves for a different kind of loss. Jesus' departure to heaven was bitter-sweet: He had to return to His Father's throne and thus initiate the age of the Holy Spirit (John 16:7).
Jesus' ascension is connected both to the resurrection and to his second coming. It is an extension of the gospel and a foundational belief that has important ramifications.
4545 reads