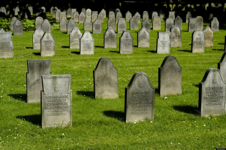 Re-printed by permission from It is Written. Read Part 1.
Three Pillars of the OT Believer's Hope
Most modern scholars concede that one or two passages in the Old Testament may teach a future resurrection unto eternal life. But they usually date these passages after the exile and trace their teaching not to earlier Old Testament revelation but to Persian influence.1 Nevertheless, a careful examination of the Hebrew Scriptures reveals an indigenous source for these later eschatological texts. From the beginning of human history and on the earliest pages of Old Testament Scripture, God began to reveal three great truths which served as the pillars of the Old Testament believer's future hope.
God's Absolute Power over Life and Death
The book of Genesis portrays God as the creator and sustainer of human life (Gen. 1:26, 27; 2:7, 22). Many other Old Testament passages acknowledge human life as a gift from God (Deut. 8:3; 30:20; Job 33:4; Eccl. 8:15; etc.). But mankind forfeited life by sinning against God and incurred God's curse of death (Gen. 2:15-17; 3:1-8; 3:19, 22; cf. Rom. 6:23). Being contrary to God's original intent and an expression of his wrath, death became a dreaded enemy to mankind.2
1911 reads