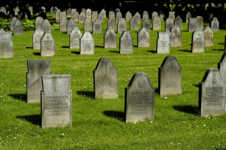 Re-printed by permission from It is Written. Read Part 1.
Three Pillars of the OT Believer's Hope
Most modern scholars concede that one or two passages in the Old Testament may teach a future resurrection unto eternal life. But they usually date these passages after the exile and trace their teaching not to earlier Old Testament revelation but to Persian influence.1 Nevertheless, a careful examination of the Hebrew Scriptures reveals an indigenous source for these later eschatological texts. From the beginning of human history and on the earliest pages of Old Testament Scripture, God began to reveal three great truths which served as the pillars of the Old Testament believer's future hope.
God's Absolute Power over Life and Death
The book of Genesis portrays God as the creator and sustainer of human life (Gen. 1:26, 27; 2:7, 22). Many other Old Testament passages acknowledge human life as a gift from God (Deut. 8:3; 30:20; Job 33:4; Eccl. 8:15; etc.). But mankind forfeited life by sinning against God and incurred God's curse of death (Gen. 2:15-17; 3:1-8; 3:19, 22; cf. Rom. 6:23). Being contrary to God's original intent and an expression of his wrath, death became a dreaded enemy to mankind.2
The Israelite commonly referred to this enemy as Sheol and longed to be delivered from it (Pss. 6:1-5; 88:1ff.; 141:7-10; Prov. 7:24-27; 15:24; 23:14; Isa. 38:2-4; 9-16).3
Man's only hope for deliverance resided in the God who exercises power and prerogative over both life and death (Deut. 32:39; 1Sam. 2:6; 2 Kgs. 5:7). Since the day of his death was determined by God (Gen. 47:29; Num. 27:12-15; Deut. 34:5; Job 14:5; Eccl. 3:2; 5:18; 8:8, 15; Isa. 38:1), the Israelite felt warrant to pray for God's deliverance from the grave (Pss. 68:20; 118:18; 1 Kgs. 22:32; Isa. 38:2-5).
Moreover, God's absolute lordship over life and death suggested to the Old Testament saint the real possibility of life after death—even a physical resurrection. The writer to the Hebrews calls attention to this fact when he tells us that Abraham was willing to sacrifice his son Isaac because "he considered that God is able to raise people even from the dead" (11:19). Failure to appreciate this fundamental truth earned the Sadducees Jesus' famous rebuke: "You are mistaken, not understanding the Scriptures nor the power [την δυναμιν] of God" (Matt. 22:29).4 Thus a belief in God's power over life and death formed one of the pillars for the Israelite hope in the afterlife.
God's Covenantal Purpose for Human Life
When God placed Adam in the Garden of Eden (Gen. 2:8-17), the place of His special presence,5 He was teaching that the summum bonum of man's life would consist preeminently in a covenantal relationship with God. And the presence of "the tree of life" in the middle of the Garden (Gen. 2:9) indicated that this divine-human relationship would be eternal (Gen. 2:16-17; 3:22; cf. Rev. 2:7; 22:2, 14). Sadly, Adam's sin resulted in the forfeiture of this eternal communion (Gen. 3:22-24; cf. Isa. 59:2).
But the central theme of the Old Testament concerns the restoration of this broken relationship and is epitomized in the tripartite formula: "I will be your God; you shall be My people, and I will dwell in your midst" (Exo. 29:45-46; Lev. 11:45; 22:33; 25:38; etc.).6 Thus, the very concept of cove­nant life with Jehovah gave the OT believer reason to hope that nothing—not even death itself—could separate him from His God. In the words of James Denney, "The experience of God's love in life, a providential and redeeming love, of which man was as sure as he was of his life itself, is the primary and the ultimate factor in the faith of immortality."7
To ensure men saw the connection between covenant life and eternal life, God did something very unusual early in redemptive history. God exempted from death Enoch, the seventh from Adam, on the basis that Enoch "walked with God" (Gen. 5:21-24; cf. Heb. 11:5). The record of Enoch's unusual translation no doubt served to encourage a similar expectancy among subsequent generations of believers who, like Abraham, enjoyed covenant life with God (Gen. 12:1-3; 2 Chro. 20:7; Jas. 2:23). The Lord Jesus certainly draws this conclusion when He infers the resurrection based on God's covenantal relationship to the patriarchs (cf. Exo. 6:3; Matt. 22:32).
David also highlights the connection between covenant life and eternal life in his sixteenth Psalm. Because David enjoyed a saving relationship with God (16:2-8), he could entertain the strongest confidence in life beyond the grave:
Therefore my heart is glad, and my glory rejoices;
My flesh also will rest in hope.
For You will not leave my soul in Sheol,
Nor will You allow Your Holy One to see corruption.
You will show me the path of life;
In Your presence is fullness of joy;
At Your right hand are pleasures forevermore (16:9-11).8
The fact that God's "covenant love endures forever" (Ps. 136) enabled the Old Testament saint to overcome even the fear of death!9
God's Redemptive Promise of Victory over Sin and Death
God's curse upon the Serpent became for mankind a promise of life.10 This promise would be fulfilled after a long struggle between two divisions of humanity, climaxing in a cosmic battle between Satan and the woman's Seed and resulting in Satan's destruction and God's victory over sin and death. And as the Old Testament saint looked forward to this great redemptive victory, he antici­pated two great events at the end of all history.
A final day of judgment. God's dealings with Adam and Eve demonstrate that man must give an account for his sin. The descendants of Adam and Eve, according to Jude, anticipated a final day of accounting (Jude 14, 15). Peter sees the universal flood as portending a more final judgment (2 Pet. 3:5-7). Not surprisingly, David alludes to this day in the Psalms (Pss. 9:17-20; 37:37-38; 49:12-15). King Solomon also spoke of this day (Eccl. 12:13, 14).11 Daniel described this great Day of Judgment in a vision:
I watched till thrones were put in place, and the Ancient of Days was seated; His garment was white as snow, and the hair of His head was like pure wool. His throne was a fiery flame, its wheels a burning fire; a fiery stream issued and came forth from before Him. A thousand thousands ministered to Him; ten thousand times ten thousand stood before Him. The court was seated, and the books were opened (Dan. 7:9, 10).
A final resurrection of the dead. God created man with a body to be His image, that is, God's visible replica and representative upon the earth. God must reclaim man's body from the grave if He would restore him to his original purpose.12 The patriarchs anticipated such a resurrection by securing a burial in the Promised Land (Gen. 23:16-18; 25:9-10; 35:27-29; 49:29-31; 50:13, 25-26; Exo. 13:19; Jos. 24:32). Isaiah assures God's persecuted people of a coming day when "[God] will swallow up death forever" (25:8), and later declares, "Your dead shall live; together with my dead body they shall arise. Awake and sing, you who dwell in dust; for your dew is like the dew of herbs, and the earth shall cast out the dead" (26:19).
Likewise, God revealed to Daniel that at the end of history "many of those who sleep in the dust of the earth shall awake, some to everlasting life, some to shame and everlasting contempt" (Dan. 12:2). These prophecies of resurrection were not imported from Persia. They were based upon God's Old Testament promise of final victory over sin and death.13 Abraham believed this promise (Gen. 25:8-9; cf. Heb. 11:19). Job believed this promise (Job 14:14; 19:25, 26).14 Moses believed this promise (Deut. 30:19-20; cf. Heb. 11:26). David believed this promise (Psa. 16:9-11; 17:15; cf. Psa. 49:15).15 Solomon believed this promise (Prov. 14:32). Other Old Testament prophets believed this promise (Hos. 6:1-2; 13:14-15; Ezek. 37:1-14).16
Consequently, when Paul defends his doctrine of the resurrection before the Jews and Agrippa, he confidently asserts that he is preaching no novelty or foreign doctrine but exactly what the Old Testament Scriptures foretold (Acts 23:6; 26:6-8, 22-23). As Bruce Milne observes,
While the fullest and clearest teachings about the afterlife do certainly come from the lips of Jesus and the apostles in the New Testament, every last one of them was nurtured on the Old Testament. It was in effect the religious and spiritual womb within which their understanding of human destiny was conceived and nurtured.17
Conclusion
The Old Testament doctrine of life after death is not as clear or detailed as the New Testament. Nevertheless, we do find the acorn of gospel hope on the earliest pages of Old Testament revelation. Although the Old Testament saint could not describe all the details of what that acorn would become, he did know it would someday become a "tree of everlasting life." Failure to exegete such a hope from the pages of Old Testament Scripture may be an indication of weak faith (Luke 24:25-27) or no faith at all (Matt. 22:29). Perhaps many modern scholars cannot see the bodily resurrection and eternal life in the Old Testament because they have never experienced the power of God's spiritual resurrection (Eph. 2:4-6) and the blessing of His covenant communion (John 17:3).
Notes
1 Brian Schmidt, "Afterlife, Afterdeath," Eerdmans Dictionary of the Bible, ed. David N. Freedman (Eerdmans, 2000), pp. 26-27; Burrows, pp. 203-04.
---
Dr. Robert Gonzales (BA, MA, PhD, Bob Jones Univ.) has served as a pastor of four Reformed Baptist congregations and has been the Academic Dean and a professor of Reformed Baptist Seminary (Sacramento, CA) since 2005. He is the author of Where Sin Abounds: the Spread of Sin and the Curse in Genesis with Special Focus on the Patriarchal Narratives (Wipf & Stock, 2010) and has contributed to the Reformed Baptist Theological Review, The Founders Journal, and Westminster Theological Journal. He blogs at It is Written.
1409 reads
1687 reads