About a year ago, at age 60, I began playing an instrument.  The instrument I chose to play is the concertina.  I chose this for a host of reasons -- it is light (unlike an accordion), relatively easy to learn, and I like the sound. I like a bellows instrument, and if I were younger, I would have probably taken up the accordion or bandoneon.
Decades ago I tried to play the harmonica, but "I could not control my tongue."  You heard it here first.  So I gave up.
I take the concertina with me sometimes to nursing home visits and play hymns for shut-ins when I stop by. Some of those folks really appreciate it.  It has be a great stress-reliever for me.  Since I love the music of the 1920's and 30's, that is most of what I play at home.
Many of you play an instrument or instruments.
Please comment on your instrument, if you don't mind.  BTW, kazoos do not count.  But a glockenspiel does count.  A photo is always welcome, if you can figure out how to post one.  I found one of me with my grandson by searching images at Google (I use this photo for my facebook picture).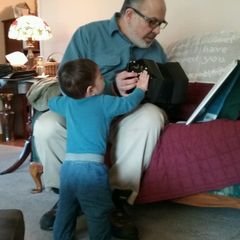 Yes, I play 3 or more instruments.
24% (6 votes)
Yes, I play 2 instruments.
4% (1 vote)
Yes, I play 1 instrument.
32% (8 votes)
I no longer play an instrument(s), but I used to do so.
20% (5 votes)
No, I do not play an instrument.
20% (5 votes)
Other
0% (0 votes)
Total votes: 25
4137 reads