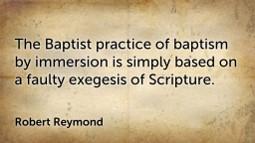 On "Theology Thursday," we feature short excerpts on various areas of systematic theology, from a wide variety of colorful (and drab) characters and institutions. Some are orthodox, but decidedly outside the Baptist orbit. Others are completely heretical. Regardless of heresy or orthodoxy, we hope these short readings are a stimulus for personal reflection, a challenge to theological complacency, and an impetus for apologetic zeal "to encourage you to contend earnestly for the faith that was once for all entrusted to the saints" (Jude 3).
"The author of Hebrews characterizes all of the ceremonial sprinklings of the Old Testament—the sprinkling of those who were ceremonially unclean with the blood of bulls and the ashes of a heifer (9:13), Moses' sprinkling of the scroll and all the people with the blood of calves mixed with water and scarlet wool (9:19), and his sprinkling of the tabernacle and everything used in its ceremonies with blood (9:21)—as 'baptisms,' that is, as 'ceremonial washings,' (9:10). Moreover, the same writer immediately thereafter and Peter as well speak of Christians as being 'sprinkled' with Christ's blood:
Hebrews 10:22 let us draw near with a sincere heart in the assurance that faith brings, because we have had our hearts sprinkled clean from an evil conscience and our bodies washed in pure water (see Ezek 36:25).
Hebrews 12:24 and to Jesus, the mediator of a new covenant, and to the sprinkled blood that speaks of something better than Abel's does.
1 Peter 1:2 according to the foreknowledge of God the Father by being set apart by the Spirit for obedience and for sprinkling with Jesus Christ's blood. May grace and peace be yours in full measure! (see Isa 52:15).
Surely the universe of discourse of the Book of Hebrews would warrant the conclusion that the author would have regarded the Christian's 'sprinkling' with Christ's blood—the New Testament fulfillment of the Old Testament typical sacrifice—as a spiritual 'baptism' as well. And just as surely, 'it would be strange if the baptism with water which represents the sprinkling of the blood of Christ could not properly and most significantly be performed by sprinkling.'"1,2
"With reference to the alleged pattern of baptism in Romans 6:2-6 and Colossians 2:11-12 as being that of burial and resurrection, a careful analysis of these passages will show that Paul's basic thesis is the believer's union with Christ in his crucifixion, death, burial and resurrection as the antidote to antinomianism. Baptism by immersion does not modally reflect our crucifixion with Christ, which is one of the four aspects of our union with Christ which Paul mentions in the Romans passage. Murray is right when he affirms:
It is arbitrary to select one aspect [of our union with Christ, namely, burial] and find in the language used to set it forth the essence of the mode of baptism. Such procedure is indefensible unless it can be carried through consistently. It cannot be carried through consistently here [since baptism by immersion does not and cannot visibly reflect our being hung on the cross with Christ, which is as much an aspect of our union with Christ in the passage as our burial with him] and therefore it is arbitrary and invalid.3
We should no more single out our union with Christ in his burial and resurrection and make these two aspects of our union with him the pattern for the mode of baptism than we should appeal to Galatians 3:27 … and argue on the basis of its statement tthat baptism should be carried out by requiring new Christians to don a white robe, that is, by a 'baptism by donning.'
The fact is that there is not a single recorded instance of a baptism in the entire New Testament where immersion followed by emersion is the mode of baptism. The Baptist practice of baptism by immersion is simply based on a faulty exegesis of Scripture. The ordinance should not be represented as signifying Christ's burial and resurrection (aspects of the accomplished phase of his saving work, which the sacrament of the Lord's Supper memorializes) but rather his baptismal work (the applicational phase of his saving work). I would conclude therefore that 'dipping of the person into the water is not necessary; but baptism is rightly administered by pouring, or sprinkling water upon the person."4
Notes
1 Robert Reymond, A Systematic Theology of the Christian Faith, 2nd ed. (Nashville, TN: Thomas Nelson, 1998), 933-934.  
2 Quoted from John Murray, Christian Baptism (Philadelphia, PA: P&R, 1962), 24, in Reymond, Systematic, 933.
3 Quoted from Murray, Christian Baptism, 24 in Reymond, Systematic, 934.
4 Reymond, Systematic, 934-935.  
7728 reads