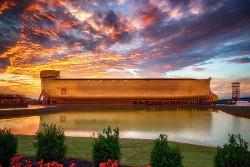 From Dispensational Publishing House; used by permission.
July 5, 2016
Greetings from the Ark Encounter—Answers in Genesis' life-size reconstruction of Noah's ark.
In this first report following a very big day at the Ark, I want to emphasize a few simple points.
Just getting to the Ark proved to be quite a challenge this morning. My wife Lynnette and I thought that we were leaving early, but we ended up trying to take an alternate route when we saw traffic headed to the Ark on Interstate 75 at a near standstill. We entered the parking lot before 10 a.m., then stood in line until finally getting on a bus that was bound for the Ark and the ribbon cutting ceremony around 11:35. (The ceremony began at 11.) All this to say—the crowd was immense.
There were people everywhere—going in every direction—but especially going to see the Ark and desiring to be part of this historic event. According to a report from Answers in Genesis, the crowd numbered more than 7,000 people.
That number made me think of a familiar passage of Scripture, in which we read this Word from God to Elijah:
Yet I have reserved seven thousand in Israel, all whose knees have not bowed to Baal, and every mouth that has not kissed him (1 Kings 19:18).
In these strange days into which we are moving, could it be that many people—certainly not a majority, but a significant number—are hungry for truth and flocking to the Ark, specifically because it has much to teach us about these turbulent times?
As Jesus stated:
As it was in the days of Noah, so it will be also in the days of the Son of Man: They ate, they drank, they married wives, they were given in marriage, until the day that Noah entered the ark, and the flood came and destroyed them all (Luke 17:26-27).
Dispensational Publishing House will be exploring similar themes all this month, so for now I will leave this as a rhetorical question. Certainly we can say that 7,000 people showed up today who are not ready to bow to the false gods of evolution and uniformitarianism.
Following the ceremonies, I left the Ark Encounter for several hours, then returned and spent about two hours touring the inside of the Ark. When I went back at 4 p.m., the crowd had thinned out to such an extent that I was the only one taking the bus bound for the Ark at that particular time. There were, of course, still many people inside taking the tour.
What did I see inside the Ark? I will give a detailed overview of my impressions in a later post. But first, I will describe some more personal highlights of my trip—particularly the opportunity to watch this historic event and spend time with one of several men who were honored today, Dr. John Whitcomb.
July 6, 2016
It was a great privilege to be invited to participate in the ribbon cutting ceremony for the Ark Encounter and to be able to tour the Ark twice before it opens to the public tomorrow.
I must admit that the opening events on Tuesday morning unfolded much differently than I expected. Since attendance at the ribbon cutting was by invitation only, I was envisioning a service that had some of the marks of the installation of a new president in a Bible college. What actually occurred was something more like—on a smaller scale—trying to get into a professional sports stadium for the game of the century. I wrote a little about this yesterday, and I truly hope that the crowds that turned out yesterday—and again today when we went back for the opportunity to tour the Ark at our leisure—are a sign of the kind of response that the Ark Encounter will continue to see on an ongoing basis.
The other very special privilege that I had during these days was to spend time with Dr. John and Mrs. Norma Whitcomb. I have assisted Dr. Whitcomb in his ministry for the past 13 years and contributed his bio in Coming to Grips with Genesis (Master Books, 2008). I have previously written about Dr. Whitcomb's significant contribution to the beginning of the modern Biblical creationism movement, which, of course, is the backdrop to his inclusion in these events at the Ark.
It has been my desire for some time to be present when Dr. Whitcomb participated in the historic opening of the Ark. Ironically, I was still standing in a long line in the parking lot when it was time for his major place in the ceremony. But at least I was there on the grounds! And the Lord graciously gave me the ability to have this photo taken with the Whitcombs, and gave my wife and I the opportunity to spend a nice time at lunch with them and many of their family members who were on hand for the occasion.
At age 92, Dr. Whitcomb's concerns during the time between ordering lunch and receiving it still focus upon the books he is writing and other ministry opportunities ahead. The Whitcombs were actually doing double duty this week, as the church fellowship that they are part of—the Conservative Grace Brethren Churches International—had planned their annual conference to coincide with the opening of the Ark Encounter.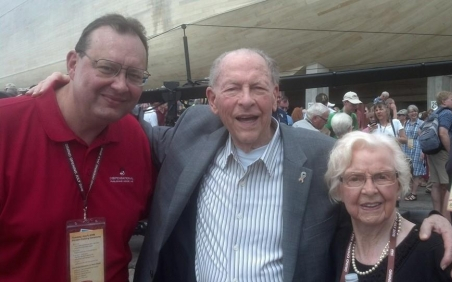 DPH editor in chief Paul Scharf (left) with Dr. and Mrs. John C. Whitcomb following the Ark Encounter ribbon cutting ceremony on Tuesday, July 5.
Dr. Whitcomb did not have any public speaking engagements during these days, but he interacted with countless people—some who have known him for years and some meeting him for the very first time. He began today at the Ark, where he met with some Conservative Grace Brethren pastors. The afternoon found him at the Creation Museum, where he signed books for an hour outside the bookstore and then did a recorded interview.
At an age when most people would not even consider making a trip to see these kinds of attractions, Dr. Whitcomb is an inspiration to all who come in contact with him.
This morning I met another member of the Greatest Generation—who is also a contributor to Dispensational Publishing House and a familiar name to many if not all of our readers. As my wife and I were on the ramp going up from the second to the third deck of the Ark, we saw Mark Looy, co-founder and chief communications officer of Answers in Genesis, speaking to none other than Dr. Tim LaHaye. Although I have interviewed Dr. LaHaye for Answers Magazine, and have worked with him on behalf of DPH, I had never met him in person.
Dr. LaHaye holds a special place in my heart—both because of his long and storied stand for Biblical truth and—in particular—Bible prophecy, and also because another beloved former seminary professor of mine, the late Dr. Ralph Turk, was once Dr. LaHaye's right-hand man, and always spoke very highly of him.
As Dr. LaHaye shook my hand, he remarked on "what a testimony" the Ark offers to the world.
I am grateful to God for the opportunity to interact with Christian servants of the caliber of Drs. Whitcomb and LaHaye. The verse that comes to my mind is Phil. 2:29: "Hold such men in esteem."
In tomorrow's conclusion to this series of reports on the Ark, I will share my reaction to what I saw at this amazing apologetic endeavor.
24635 reads